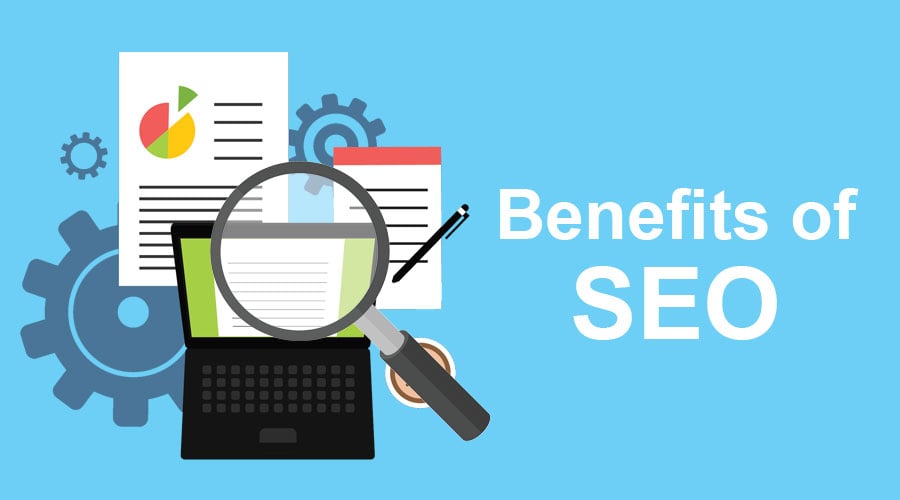 Search engine optimization is the process of growing the quality and quantity of website traffic by increasing the visibility of a website or a web page to users of a web search engine. SEO refers to the improvement of unpaid results and excludes direct traffic and the purchase of paid placement. Also defined as, Search engine optimization is the process of optimizing your website to maximize organic traffic from search engines. The leading search engines are Google, YouTube, Bing, and Yahoo.

The Benefits Of SEO are:
SEO traffic is more likely to convert – SEO traffic is more likely to convert than other sources of traffic. In fact, search traffic has the best conversion rates for most websites. By positioning yourself on search engines, you are positioning your business to win more conversions.
SEO does not involve any paid advertising – You do not have to advertise if you have strong SEO standings. You can increase your website traffic without having to pay per click. An effective SEO strategy can help you scale back your advertising dollars, and invest it in more efficient areas.
SEO can decrease your cost per investment – Another benefit of SEO is that it is "free". It is far less expensive than advertising to acquire customers. The only costs in SEO are the costs to hire the best SEO company. Unless you have experience in website coding and Google algorithms, you will need an SEO firm or agency to grow your rankings and reap the benefits of SEO.
SEO is a long-term strategy – SEO is a long-term strategy. It can take 6-12 months to see optimal rankings. However, just as it takes time to move up the rankings, it takes time to move down the rankings. Once you are placed in top positions, you rarely move down. The only reason this would change is due to rising SEO competition or changes in Google algorithm.
SEO increases your brand awareness and equity – SEO will also build your brand equity. In other words, SEO will help people become aware of your brand. Awareness is important because your website visitors may not always be ready to purchase. However, by being aware of your offerings, they may purchase in the near future.
SEO is measurable – SEO is measurable. You can measure your conversions and the source of conversions. You can also measure the progression of your website rankings and organic traffic. With the right tools, you will be able to measure which search keywords are the most valuable to your business.
SEO is the new Public Relation strategy – In order to rank high in search engines, you must have quality backlinks. Backlinks are links from external websites that link to your website. The more you have, the more relevant your website is. The more relevant your website is, the higher you rank. Acquiring quality backlinks may require publicity. The more publicity you have, the more backlink opportunities you may have. The two works hand-in-hand.
SEO will increase your social media followers – SEO will add-on more social media followers. As your visitors are researching your website, they are likely to click your social media icons to follow you. An effective SEO campaign will generate thousands of website visitors, which you can expect to translate into a smaller percentage of followers.
SEO improves the speed of your website – As you are working on growing your website's search, you will improve the speed of your site. High-speed websites will help you offer the best user experience to your visitors. In addition, high SEO rankings will also correspond with higher-speed websites.
SEO is the smartest marketing investment – The benefits of SEO are endless. SEO is the smartest marketing investment you can make. It is a long-term asset to your business. It generates traffic, leads, and sales. It does not require any advertising. Your customers are searching on it right now. And, one of your competitors are growing your business significantly from it. If you want to grow your business without cold calling, networking, or other forms of "push" advertising, invest into a SEO campaign today.


I hope you may find this article helpful to let you know the benefits of SEO for you business.