Digital Marketing
What is Digital Marketing: Digital marketing encompasses all marketing efforts that use an electronic device or the internet. Businesses leverage digital channels such as search engines, social media, email, and other websites to connect with current and prospective customers.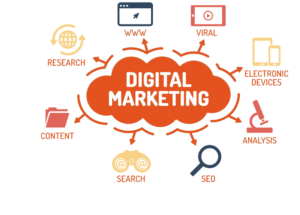 What is the role of Digital Marketing to a Company:
While traditional marketing might exist in print ads, phone communication, or phsycial marketing, digital marketing can occur electronically and online. This means that there are a number of endless possibilities for brands including email, video, social media, or website-based marketing opportunities.
Because digital marketing has so many options and strategies associated with it, you can get creative and experiment with a variety of marketing tactics on a budget. With digital marketing, you can also use tools like analytics dashboards to monitor the success and ROI of your campaigns more than you could with a traditional promotional content — such as a billboard or print ad.
Types of Digital Marketing:
1. Search Engine Optimization (SEO)
2. Content Marketing
3. Social Media Marketing
4. Pay Per Click (PPC)
5. Affiliate Marketing
6. Native Advertising
7. Marketing Automation
8. Email Marketing
9. Online PR
10. Inbound Marketing
11. Sponsored Contenta
Does Digital Marketing works for all businesses?
Digital marketing can work for any business in any industry. Regardless of what your company sells, digital marketing still involves building out buyer personas to identify your audience's needs, and creating valuable online content. However, that's not to say all businesses should implement a digital marketing strategy in the same way.
The 5Ds of digital marketing
To understand the importance of digital marketing to the future of marketing in any business, it's helpful to think about what audience interactions we need to understand and manage. Digital marketing today is about many more types of audience interaction than website or email… It involves managing and harnessing .These '5Ds of Digital' define the opportunities for consumers to interact with brands and for businesses to reach and learn from their audiences in different ways:
1. Digital devices – audiences experience brands as they interact with business websites and mobile apps typically through a combination of connected devices including smartphones, tablets, desktop computers, TVs and gaming devices.
2. Digital platforms – most interactions on these devices are through a browser or apps from the major platforms or services, that's Facebook (and Instagram), Google (and YouTube), Twitter and LinkedIn.
3. Digital media – different paid, owned and earned communications channels for reaching and engaging audiences including advertising, email and messaging, search engines and social networks.
4. Digital data – the insight businesses collect about their audience profiles and their interactions with businesses, which now needs to be protected by law in most countries.
5. Digital technology – the marketing technology or martech stack that businesses use to create interactive experiences from websites and mobile apps to in-store kiosks and email campaigns.
Some Key Take Aways:
1. The so-called 'Internet of Things' has progressed from theory to going concern for many advertisers. Many brands are considering its impact on the customer experience and what implications it will have for channel management and CRM.
2. Focus on the small data, too: while there's a lot of talk about big data, it's crucial to make sense of the small data that feeds into it. On the one hand, it's important to future-proof a business in a way it can query – and react to – macro trends in data. In the everyday operations of the business, however, it's crucial to squeeze as much value from all digital touch points and exploit innovations made possible through technology. Scrutiny of on-site and paid media analytics were specifically referenced.
3. Get the customer experience right: many advertisers agreed that the proliferation of consumer usage across different social platforms has inadvertently shifted control from the advertiser to the consumer. The impact of this shift has caused corporate structures to evolve (e.g. the birth of 'socialCRM teams') and also completely redefined and broadened the remit of creative agencies, who have found themselves challenged with building infinitely more creative formats, for more platforms, to deliver a more personalised experience to consumers. In a world of digital commoditization, agency rosters are in fact becoming larger, not smaller, reflecting the increasing complexity that comes with hyper targeting and personalization and giving rise to a new breed of specialists.
4. There's been a noticeable improvement in marketers' understanding of various autonomous marketing platforms. The shortened knowledge gap (and increase in opportunities) has been led by the platforms themselves—Facebook, Twitter, etc.—and their evangelist marketing partners. The message is loud and clear that businesses have to be where their customers are, and in these environments, respect the native rules. Autonomous marketing platforms aren't solely places for consumers to connect with other consumers; they're also where consumers can forge connections with brands and vice versa.