In today's online space MEME has its own impression. People sometimes are so curious to create memes on every trending situation.
Known for their funny and unique humor, these memes that started off as inside and funny jokes, are now being used by brands to boost their social media following. In fact, memes are so popular that there are even plenty of social media profiles that are dedicated to just posting funny memes to their followers.
With the ability to go viral and increase brand exposure, these memes are now being utilized by many brands as their core social media strategy.
A meme (pronounced meem) is a concept, joke, or catchphrase that is shared online for humorous purposes. Most memes usually take the format of an image, but they can also be videos or just text.
Memes have been around since the early-mid-1990s when the internet was becoming popular but in recent years have exploded and show no signs of stopping.
Benefits of Meme Marketing
When it comes to marketing, there are plenty of benefits of memes that allow them to connect with audiences much better than traditional methods.
One of the best benefits of memes is that they are very easy and cheap (mostly free) to make. With plenty of free online meme creators available, unlike other methods of advertising, you can create a whole range of memes for free which greatly increases your chances of a return on investment.
Aside from being able to create these memes on a whim without any real planning required, these memes also have a great chance to go viral. Going viral is the scenario that every brand and business dreams of.
Not only does it greatly increase your brand exposure, but it can also drive a huge swarm of traffic to your website.
Unlike other types of marketing out there, memes are specifically good at targeting the younger generation with their sometimes weird and confusing jokes.
Let's enjoy some MEME Marketing Examples
BarkBox
BarkBox is a monthly subscription box that is full of toys and treats for dogs.
BarkBox has managed to grow its audience using a range of relevant and dog-related memes. Currently they have 308k followers on Twitter.
Big Bazaar
Big Bazaar is an Indian retail chain of hypermarkets, discount department stores, and grocery stores.
Currently, they have 109k followers on Twitter.
Brand Factory
Brand Factory is India's largest fashion discount store chain.
They currently have 8377 followers on Twitter.
ALT Balaji
ALTBalaji is an Indian subscription-based video on demand platform which is a wholly-owned subsidiary of Balaji Telefilms Ltd.
Currently, they have 111.4k followers on Twitter.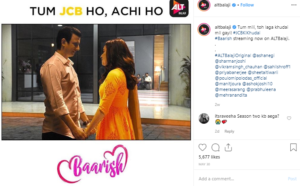 So these were few examples of some big brands which are taking benefit of this kind of marketing and hence are successful in entertaining their customers and are also increasing their customer pool.
It is not like MEME Marketing is beneficial only for the big brand but it is also beneficial for small or initial brands as well the condition is that they are creating healthy and logically sound MEME which have a higher chance of getting positive response from customers.