Internship Training
Internship Training programme, an educational or a vocational institute enters into an arrangement with the industrial enterprises to provide experiential knowledge to their students.
The training conducted to offer a pra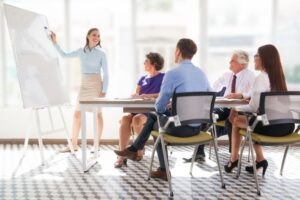 ctical knowledge to the students, lasting for few months, is called as the internship training. These trainings are conducted for such courses viz. Engineering, Medical, Management, etc., wherein the advanced theoretical knowledge is to be backed up by the practical experience of the job.
Usually, the internship training lasts for few months and can either be paid or unpaid. The amount received while training is called as the "stipend." The internship training is beneficial for an organization because they get the cheap labor for their extra work, viz. printing, scanning, dispatching of documents.
It is about:
A structured work experience related to a student's major and/or career goal
An experience that should enhance a student's academic, career, and personal development
Supervised by a professional in the field
An experience that can be one academic term (summer, spring, fall) or multiple academic terms in length
Paid or unpaid, part-time or full-time
An experience that is mutually agreed upon by the student, supervisor and/or faculty member.
An internship offers you the chance to learn by doing in a setting where you are supervised by a work-place professional and have the opportunity to achieve your own learning goals, without the responsibilities of being a permanent employee.
An internship also offers you the opportunity to work with someone who can become a mentor for you – not only in the internship but throughout your career.
Leadership and Skill Development
Learn new skills and add to your knowledge base while gaining confidence in your abilities
Opportunity to practice communication and teamwork skills
Gain industry knowledge first hand from an organization and professionals
Provide evidence that you have initiative, are reliable, and have a sense of responsibility
Apply some of the ideas learned in school and provide a bridge between school and the professional world
Achieve a sense of accomplishment by contributing to an organization
Networking and Establishing Mentors and References
Meet new people and practice networking skills while establishing a network of professional contacts, mentors, and references
Open to door to advice on the next steps to take on your career path
Course
Professional courses are special courses, offered at many colleges and universities that put emphasis on
professional development. Unlike academic courses, these courses usually do not require prerequisites, sometimes do not offer credits and are specifically oriented toward professionals wanting to enhance skills useful for their specific work environment. For example, West Liberty University offers professional courses in computer use, portfolio development, grant writing and administration. These courses are usually categorized under "Continuing Education" or "Professional Studies" at universities. You are awarded a professional certificate upon completion of a professional course.
Advantages of doing any course:       
Career Enhancers
Short courses are a great way to fill the gaps in your knowledge and give you a competitive edge when it comes to job promotions. As technology evolves systems, programs and practices change, making it critical for workers to refresh their skills and stay on top of the game.
Taste-Test a Career Path
Short courses can allow you to sample the wares before you buy. Gaining an insight into the type of knowledge required for a particular industry or field can save you the time and money of studying a full-time degree.
Turn Hobbies into Something More
If you've always wanted to turn your interests into a hobby or even if you wanted to find a hobby you're interested in, short courses can be a great way to start out. Studying anything from home gardening to life drawing can be a fun way to get yourself off the couch and learn new skills and knowledge.
Kick-Start Your Learning
Many people want to do more with their lives but feel that they do not have the time or necessary skills. Short courses are the perfect way to start your learning process and engage in various subjects before deciding if it really is the right path for you.
Convenience
The greatest benefits of short courses are that they are practical and convenient. They can be completed via campus learning or distance learning. They allow you to continue your current lifestyle while improving your skills and your CV. This is of particular importance to working people, as no income will be lost when studying part-time.
Learn and Discover
It is natural to be unsure of exactly what you want to do with the rest of your life. Short courses are perfect for people who want an introduction into various fields to discover what they like before making a full qualification commitment. Think of it as trying on a t-shirt to check the fit before purchasing it!
Endless Possibilities
New skills are always appreciated in the workplace. Whether it's bookkeeping, first aid or project management, having additional skills will set you apart from your fellow employees. Organizations are increasingly looking for employees who show individuality and drive. Being able to showcase an array of skills will differentiate you in a job interview.
Learn and Stay Young
Continual learning is mandatory if you want to become and remain successful in the workplace. Short courses allow you to continue to learn new skills and ways of thinking. It is also a way to keep your brain stimulated as we often get trapped in the web of our daily duties and forget to look at the bigger picture for our lives.
Networking
Networking within short course classes provides a great opportunity to make new business contacts and friends. These relationships may prove beneficial later on in life.
Keep Busy
As much as short course are beneficial to improve one's life, they can help kill boredom too. Instead of staying at home with an idle mind, you can have something productive to do with your spare time.