Three Basic Needs of Life – Food, Clothes and A Roof to live,
Right?
But here you go in 2020; the memes are making their place as the fourth basic need.
Memes are taking over the world, and yes it is right, memes are now like a remedy to treat depression, anxiety, sad thoughts, and unwanted vibes.
So, Let's Define A Meme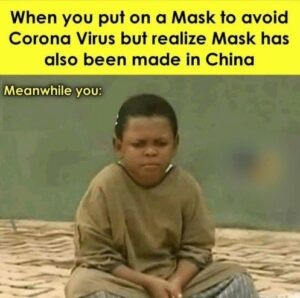 We can define a meme as an idea or concept majorly bundled in the form of images, videos, animation, hashtags or gifs that represents sarcasm, humour, and seriousness of the subject in an amusing way. This kind of content has become the new language of social channels and holds the power to become viral in a short time.
Meme Marketing and Advertising – The Ingredients of Viral Success
Memes produce instant response and engagements because they are simply relatable to the common people and teenagers. By definition, memes are meant to be shared, so the idea or content is frequently reposted and re-memed over the various social platforms to reach a wider audience. When people send the meme to a colleague or any friend for a laugh or for sarcasm, they emotionally engage with your content and the brand.
Below are the mentioned factors which create instant response and engagements.
1.Humour
2.Sarcasm
3.Easy to understand
4.Latest trends
5.Relatable
6.Friendliness
7.Fun
8.Aimed for a quick laugh.
Meme Advertising and Marketing – Precautions
As per the various theories on the internet, there are almost 0% possibilities of copyright issues when creating a meme, but it's always good to take care of such things in advance.
Below are some of the best practices for creating the meme content
1.Always check for the license of the media you are going to use
2.Establish a clear policy about how your brand wants to use the meme
3.Be careful and try not to indulge in a meme war with another brand.
Meme Marketing – The Rules You Must Follow
Research, Research and Research
No matter what, you have opted for meme hijacking the original concept, or the initial step to making a viral image is to do extensive research. Use various social listening tools like google trends, google alerts, mention or more to identify what is in trend and what are the most engaged memes of the time. Use tools like IFTTT to create automated funnels to get notifications about the latest trends, about elements that are not working, get into deep with audience analytics and try to find out what is the type of content they have reacted to the most.
Always Play The Native Card
Always ensure that a digital native is composing, designing, quality checking and sharing memes from your brand, so the dialect is on the point always. If you don't, the audience will quickly get that you're making a decent attempt to be cool, and it will hurt your brand image.
Remember The Bottom Line
Memes aren't only for school kids or exhausted office employees. They can be a fundamental part of your marketing plan, as long as you observe a couple of brilliant measures. But never, let us repeat, never, forget to take your brand values, brand elements, and brand aura into consideration; otherwise, it can be a disaster for your brand as well. It's ensured that only a small or maybe a medium part of your organization will only understand the meme created by you. So, try not to attempt to make a meme that interests everybody. Know your intended interest audience and cater to their interests instead.
The Undisputed Kings of Meme Marketing
Elon Musk
Yes, that's true – Elon Musk rebranded himself, using the magic of memes, just the memes, perfect and maybe the most creative example of online reputation management. From his weed controversy to other fallouts, he has handled it like a king, like a modern-day meme lord. His Cyber Truck was an instant success without even spending dollars on marketing and advertising; it was just the power of memes and the memes only.
NetFlix
I am sure, you do remember the wave of Sacred Games meme over every social media platform, and, have you ever checked the official bio of NetFlix India account, these guys are living on the top of meme game, from Sacred Games to Bird Box to almost every NetFlix original they have delivered, meme marketing was their prime tool to advertise.
Gucci
Yup, you read it right, luxury brands, do not usually use sarcasm, humour or trends in their digital marketing and advertising. But Gucci, freshly decided to soft its marketing tone, using memes as a part of a digital campaign for its new 'Le Marché Des Merveilles' timepiece collection. And surprisingly they did a great job.
Conclusion

When used correctly, memes delight your audience and help you build genuine relationships. People share, laugh, and believe that your brand really gets their sense of humor. On the other hand, tone-deaf copy or jokes around sore subjects may trigger your audience resulting in an outcry on social media.
Before producing memes, nail down your content marketing objectives. Then, dive into your audience data and come up with memes that add value and support your marketing strategy. Getting edgy isn't for the faint-hearted, but by understanding the do's and don'ts of meme marketing, you'll protect your brand reputation, have a little fun, and (hopefully) make new friends.