Memes are taking over the world, and yes it is right, memes are now like a remedy to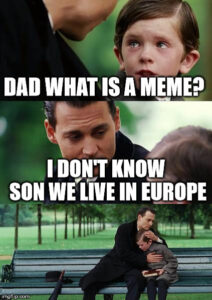 treat depression, anxiety, sad thoughts, and unwanted vibes. Every social media platform, newspaper or any other communication mediums are using and utilizing memes to make their content more compelling, humorous and relatable to the common public. Known for their catchy, funny and self relatable humour, memes that started as inside and sarcastic jokes, now being used by big brands, organizations, newspapers, small businesses, and celebrities to build a huge fan following and engage them on a daily basis.
A meme is a concept or idea of communicating instant humor to your audience through images, customized phrases, gifts or even vines. Memes are easily understood, retained and the quickest way to convey your emotions.
MEME MARKETING: Meme marketing is a subset of viral marketing which is a practice of using medium like word of mouth and social media networks to fulfil marketing goals. It is a practise of using users to promote a brand or product by creating appealing, engaging, and fast spreading news or content.
Below are the mentioned factors which create instant response and engagements.
Below are some of the best practices for creating the meme content
Always check for the license of the media you are going to use

Establish a clear policy about how your brand wants to use the meme

Be careful and try not to indulge in a meme war with another br