SEO stands for "search engine optimization." It is the process of getting traffic from the "free," "organic," "editorial" or "natural" search results on search engines.
SEO is Important because it helps search engines understand your website and its content, as well as identify whether it is relevant to a searcher's query.
As search engines become more sophisticated, there is a greater focus toward relevance and semantics in search engine results pages (SERPs).
Additionally, you can't simply ignore on-page SEO because you have more control when optimizing for on-site elements – as opposed to off-page SEO that consists of external signals (i.e., backlinks).
Types Of SEO:-
There Are 7 types of SEO
White-Hat SEO: Generally, white hat SEO refers to any practice that improves your search rankings on a search engine results page (SERP) while maintaining the integrity of your website and staying within the search engines' terms of service. These tactics stay within the bounds as defined by Google.
Black hat SEO: Black hat SEO refers to a set of practices that are used to increases a site or page's rank in search engines through means that violate the search engines' terms of service.
Grey hat SEO: Grey Hat SEO is the practice of using technically legal methods to improve your site rankings, but which are ethically dubious, and could one day become black hat. Think of it like legal highs.
Negative SEO: Negative SEO is any malicious attempt taken against your site in an attempt to harm your rankings.
Negative search engine optimization isn't necessarily the result of your competitors trying to outrank you. Although most people assume that negative SEO happens when a competitor attacks you, it can also be the result of an individual with a vendetta and significant SEO resources at their disposal.
On page SEO: On-page SEO is the practice of optimizing individual web pages in order to rank higher and earn more relevant traffic in search engines. On-page refers to both the content and HTML source code of a page that can be optimized, as opposed to off-page SEO which refers to links and other external signals.
Off page SEO: "Off-Page SEO" refers to all of the activities that you and others do away from your website to raise the ranking of a page with search engines. … On-page search engine optimization happens within the site, while off-page SEO happens outside the site.
Technical SEO: Technical SEO refers to the process of optimizing your website for the crawling and indexing phase. With technical SEO, you can help search engines access, crawl, interpret and index your website without any problems.
Points to ponder for On-Page SEO:
Title Tag
Meta Description
Headlines
Header Tags
SEO Writing
Keyword Cannibalization
Content Audit
Image Optimization
Expertise, Authoritativeness, and Trustworthiness
Advantages $ Disadvantage :-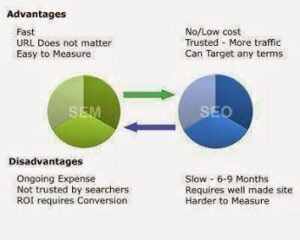 Advantage
Free
SEO is totally free of cost, and it depends on how much time you spend researching keywords and utilizing them in your high-quality content.
Localized Traffic
Using local SEO tools such as Google My Business can help you improve your localized traffic.
Mobile Friendly
Good SEO means your site is responsive, your site speed is good, and there's no latency for mobile users.
Expert Status
Following best SEO practices means your site is an authority. You only have one article per keyword, and you only have backlinks from high-quality sites.
Customer Friendly
Potential customers find your site because of your SEO. They come to your site and see that you're professional. There are no grammatical errors in your content. You're using the latest technology on a secure site, and they only need to locate the buy button.
Disadvantages
Targeted by Competitors
Effective SEO means you rank high. Sites that rank high are targeted by competitors who want a slice of the SEO pie, which means you're always on your toes.
Changes
SEO can change. Just say the word "panda" and watch business owners frown. One small change to SEO, and you can be at the top of the search results one day and the next day find your site greatly demoted.
Penalties
You need to always be on top of your game, which may require some financial investment. One example is websites that haven't been upgraded to responsive design will be penalized.
Slow Results
SEO isn't a fast-moving process. You can update your site and use best practices and not see results for months.
No Promises
You could update all your content and website features and still not find that your site has improved. SEO doesn't promise results.