Here are some tips for instagram marketing are as follows:
1. Use a business account
A business account gives you access to features you can't use with a personal account, including: 
Instagram Insights 

Instagram ads 

 

Instagram Shopping 

 

Contact information and a call-to-action button on your profile

 
A creator account has its own set of benefits for influencers and content creators. But for most marketers, a business account is where it's at. Hop back up to the top of this post and convert your account if you haven't already done so. 
2. Clearly define your goals
All social platforms are tools. But you can't use those tools effectively unless you know what it is you're trying to build. Instagram marketing can mean different things to different marketers. Are you looking for- 
Increase brand awareness?

 

Get new leads?

 

Establish your brand as an industry leader?

 

Make sales?

 
You might even want to combine several different outcomes. But unless you know where you want your Instagram strategy to take you, you're unlikely to get there.  
3. Define your audience
A little preliminary research can help you figure out who you can best reach using Instagram. For example, our post on Instagram demographics shows that: 
The most active

Instagrammers

are between 18 and 29.

 

The United States is the largest Instagram market.

 
More urban residents use Instagram than their suburban peers.

 
But that doesn't mean you should only use Instagram to try to reach Urban Americans in their 20s. Instead, you need to define your target market so you can create content that speaks directly to that audience. 
This will also become critical when it comes time to choose targeting options for your Instagram ads. 
4. Optimize your profile
In just 150 characters, your Instagram bio needs to make a great first impression, convey your brand personality, and tell people why they should bother following your Instagram account. 
Fortunately, you also get a few other fields on your Instagram profile to showcase what your brand is all about and make it easier for people to find you.
These include: 
Your name:

30 characters, included in search.

 

Your username:

AKA your handle. Up to 30 characters, included in search.

 

Your website:

A clickable URL you can change as often as you like.

 

Category:

A business feature that tells people what you're all about without using up bio characters.

 

Contact info:

Tell people where to find you.

 

Call-to-action buttons:

Give

Instagrammers

a way to interact with you directly from your profile page.
5.
Choose the right profile photo
For most brands, your Instagram profile photo should be your logo. This helps provide credibility and allows visitors to see at a glance that you are. 
Your Instagram profile photo displays at 110 by 110 pixels, cropped to a circle with a 110 pixel diameter. However, it's stored at 320 by 320 pixels, so you should upload a file that large to make sure it still looks good if Instagram changes how profile pictures are displayed. 
6. Create visually compelling content
Instagram is a visual medium, so your posts have simply got to look great. You don't need professional photography equipment, but your photos do need to be sharp, well-lit, well-composed, and in focus, at a minimum. 
Even more important, your visual content needs to be compelling. Great photos are nice, but if they don't tell a story, or get viewers excited, they're not going to help you use Instagram for marketing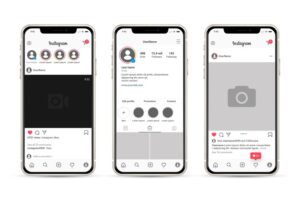 Here are a few ideas: 
Behind-the-scenes posts:

Give followers a look at your office, your storefront, or your manufacturing process.

 

Quotes and text-based images:

Play with text to create visually interesting content with no photos required.

 

Instructional posts:

Teaching followers how to achieve a goal is about as compelling as it gets.

 

Videos:

The maximum length of a video post on Instagram is 60 seconds, but you can go much longer with

IGTV

.

 
7. Establish your brand's "look" on Instagram
Once you decide what type of content to publish, you need to decide how it's going to look. As we explain in our post on creating an Instagram aesthetic, color influences buying decisions and brand recognition. 
Your Instagram look should be consistent across your posts, helping followers easily recognize your content in their feeds. 
8. Write great captions
True, we just said that Instagram is a visual medium. But that doesn't mean you can neglect your captions. Your brand voice is just as important as your brand look. Like your visuals, it should be consistent across posts. 
Instagram captions can be up to 2,200 characters long, so you can use them for everything from a quick quip to detailed storytelling. That said, only the first two lines of text appear in news feed without tapping more. 
Since people tend to scan captions rather than read them thoroughly, you want to get all the important information into those first two lines. 
In our post on the best caption length for every social network, we recommend the following Instagram caption lengths: 
Organic posts:

138–150 characters

 

Instagram ads:

125 characters

 
If you've got more to say, go ahead and say it. But make sure the extra text is worth it. National Geographic is the classic example of long-form Instagram content. If you can match their level of storytelling, don't be afraid to go long. Your caption should be relevant, entertaining or informative, compelling, and on-brand. 
9. Use hashtags wisely
Hashtags are a key way to increase your visibility and discoverability. You can use up to 30 hashtags in an Instagram post. But, realistically, you probably don't want to do that. 
We recommend using between five and nine hashtags per post. More than that can look like hashtag stuffing, a spammy tactic that turns followers off. Worse, if you use irrelevant or repetitive hashtags, users can choose not to see your content for that tag. 
To get the most benefit, choose hashtags that: 
Are relevant

 

Are specific to your niche

 

Do not encourage follow- or like-swapping (think #like4like or #

followme

)

 
10. Engage
If you want engagement on Instagram, you have to engage, too. Posting quality content is great, but if you ignore comments and never interact with any other profiles, you'll have a lonely existence on the network. 
At a minimum, respond to comments users post on your feed. But also seek out popular accounts in your niche, follow them, and like and comment on their posts. Make yourself visible in a non-promotional way. 
11. Don't neglect Instagram Stories
Half of businesses on Instagram use Stories. And they're getting great results: A third of the most viewed Stories are posted by businesses. Stories are a key part of a good Instagram marketing strategy. 
Instagram Stories disappear after just 24 hours. Followers expect them to be more real and raw than your accurate Instagram feed. They provide a great opportunity to connect with followers and build relationships. 
In our post on the best ways to use Instagram Stories for business, we highlight the following strategies: 
Tell a story:

Have a message in mind, even for this in-the-moment format.

 

Get interactive:

Use Stories features like polls and questions.

 

Aim for personal connection:

Stories are a huge driver of Instagram direct messages that help build follower loyalty.

 

Use a call to action:

Don't rely on the small "swipe up" Instagram overlays for outside links. Use text to tell followers why they should swipe.

 

Be consistent:

Like your Instagram feed, your Stories should align with your brand voice and aesthetic.

 
12. Use Stories highlights and covers to boost your bio
We covered all the components of your Instagram bio in Tip 4. But there's a bonus component we didn't mention: Stories highlight covers. 
You can create highlight albums to preserve your top Stories content, so it doesn't disappear after 24 hours. Your highlight albums appear right under your bio, and you can create custom covers for each. 
Used effectively, this adds a whole extra component to your bio, giving potential followers loads more information about your business and why they should follow you on Instagram. 
13. Post at the right times
Did you know that the best time to post on Instagram varies based on your industry? It's true. 
We analyzed 258,956 posts from 11 different industries and found that there really is a best time to post, even though Instagram feeds are no longer chronological. 
Here are the best times to post for each industry we analyzed: 
Travel and tourism:

Friday, 9 a.m. to 1 p.m.

 

Media and entertainment:

Tuesday and Thursday, 12 to 3 p.m.

 

Food and beverage:

Friday, 12 p.m.

 

Retail:

Tuesday, Thursday, and Friday, 12 p.m.

 

Professional services:

Tuesday, Wednesday, and Friday, 9 or 10 a.m.

 

Non-profit:

Tuesday, 10 a.m. or 4 p.m.

 

Non-retail e-commerce:

Thursday, 4 or 9 p.m.

 

Pharma

and healthcare:

Wednesday and Sunday, 9 a.m.

 

Personal care:

Thursday and Friday, 1, 2, or 3 p.m.

 

Technology:

Monday and Tuesday, 2 p.m.

 

Education:

Thursday, 4 or 5 p.m.

 
14. Expand your audience with Instagram ads
The surest way to get your content in front of a new audience is to run an Instagram ad. Two million businesses are already using ads on Instagram. And they must be working, because 96% of U.S. marketers already using Stories ads plan to keep doing so. 
Back in Tip 3, you defined your target audience. Now you can use that information to target your ads based on: 
Location:

State, province, city, country, and so on

 

Demographics:

Like age, gender, and language

 

Interests:

Such as other accounts people follow and apps they use

 

Behaviors:

Both on and off Instagram

 
15. Interact with others to grow your Instagram following
I've talked a lot about promoting your Instagram account, posting engaging, quality images, using hashtags to create buzz, and gaining inspiration from others, but another critical step in the process is interacting with your followers and the people you want to follow you. 
If you're already posting follow-worthy content then start liking, commenting and following others. "If you expect people to engage with your posts, they expect the same as well," "The more active you are, the more exposed your username/account is to the owner and owner's followers." So search popular hashtags and like away! Write complimentary comments on people's posts and #regram images while giving credit to the original.