Affiliate marketing is a marketing practice in which a business rewards one or more affiliates for each visitor or customer brought about by the affiliate's own marketing efforts. Examples include rewards sites, where users are rewarded with cash or gifts, for the completion of an offer, and the referral of others to the site. The industry has four core players: the merchant (also known as 'retailer' or 'brand'), the network, the publisher (also known as 'the affiliate'), and the customer. The market has grown in complexity to warrant a secondary tier of players, including affiliate management agencies, super-affiliates and specialized third parties vendors.
Affiliate marketing – using one website to drive traffic to another – is a form of online marketing, which is frequently overlooked by advertisers. While search engines, e-mail, and website syndication capture much of the attention of online retailers, affiliate marketing carries a much lower profile. Affiliates continue to play a significant role in e-retailers' marketing strategies.
According to Pat Flynn (American entrepreneur and blogger): 
          "Affiliate marketing is the process of earning a commission by promoting other people's (or company's) products. You find a product you like, promote it to others and earn a piece of the profit for each sale that you make." 
4 Parts
of
Affiliate Marketing
The Merchant

 
Also known as the maker, the company, the retailer, the creator, or the brand

 

Affiliate Marketing Merchant creates an item/product or service. It can be a major organization like OMG Network.

 

Alternatively, it can be an individual who is an entrepreneur and pitches online courses and consulting programs on digital marketing career.

 

Anyone who has a product to sell can be a merchant behind an Affiliate Marketing Program.

 
2. The Affiliate
Affiliates are also known as the publishers, distributors or advertisers. They can likewise go from a single individual to whole organizations.

 

Affiliate marketer advertises one or more affiliate products, items or services and tries to draw in and persuade potential clients that suit vendor's product so that they really wind up purchasing it.

 

This can be accomplished by running a survey or review blog of the Affiliate Marketing Merchant's items.

The affiliate could likewise be a site, which is committed to discovering cool items around a specific theme, and then to advertising those affiliate items for target audiences.

 
3. The Consumer
The consumers let the affiliate framework go round and offer the results. Without successful deals, there aren't any commissions to distribute and no income to be shared.

 

The affiliate marketer will attempt to market to the consumers on whatever channel they see befitting for their consumers, regardless of whether that is a social network, search engine, digital billboard or content marketing channels.

 

Consumers will know that they are the part of an affiliate network system, only if the affiliate wants them to know this. Some let their customers know as they have a tendency to be straightforward about their marketing being boosted fiscally, yet others don't.

 

They have a tracking framework that works at the back-end, where consumers can take after the buying procedure in a usual fashion, and in the end, affiliates will earn good commission.

 

The consumers won't normally pay a higher cost to the affiliate advertiser, as the cost of the affiliate system is incorporated into the retail cost.

 
4. The Network
There are very few who consider the network as the Affiliate Marketing framework. In any case, I trust that an Affiliate Marketing guide needs to incorporate networks, on the grounds that, by and large, a network fills in as a delegate between the affiliate network and the affiliate marketing merchant.

 

With affiliate network, you could, in fact, advertise an online course somebody has made and simply manage an immediate income-share with

them,

letting networks like ClickBank or Commission Junction handle the installment and product delivery that puts a more genuine approach in Affiliate Marketing programs.

 

Occasionally, affiliates need to go through an affiliate network to try and have the capacity to promote the product efficiently.

 

The network then additionally fills in as a database of lots of products, and out of those products, affiliates can pick the one (or more than one) they want to promote.

 

To promote different kinds of consumer products such as tools, toys, books, and household items, Amazon is by far one of the biggest affiliate networks

. 

With the help of Amazon Associates' affiliate program, you can promote any product, which is available to be sold on their platform.

 

You may sign up and generate a custom affiliate link to Amazon products quite easily and then, in case of anyone purchases through your affiliate link, you will be able to earn a commission.

 
How to
get
Benefit
s
from Affiliate Marketing
Affiliate marketing is one of the most popular schemes for monetizing your web content. It is also a very effective digital marketing technique that can bring benefits to all the parties involved. Successful affiliate marketing plans involve at least three different parties: 
Advertisers – are companies or individuals that promote their websites, products or content using the affiliate marketing schemes;

 

Publishers – are bloggers or webmasters who promote advertisers' offers or websites for commission or subscriptions;

 

Consumers – are regular internet users who browse websites and click on affiliate links or ads

 
The example for this type of digital marketing scheme is the Amazon Associates platform, which is probably the biggest affiliate marketing operation in the world. Amazon Associates allows bloggers and webmasters to earn commission by promoting the products that are being sold in Amazon stores.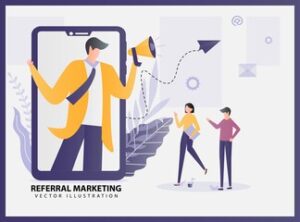 Some affiliate marketing schemes also involve the fourth party. It is called the network, and it's usually the affiliate platform that connects advertisers and publishers and calculates publishers' commission. The example for this type of relationship is the Edmunds.com Affiliate Program, which connects car dealers and websites and blogs from the automotive niche. 
Since affiliate marketing is already very popular among the web content publishers, affiliate marketing gurus often forget to mention the benefits this concept brings to advertisers, affiliate networks and consumers. In this article, we won't share tips and tricks for content publishers. You can find these types of posts on blogs and websites run by popular affiliate marketing influencers, like Charles Ngo. In this article, we're going to list the benefits affiliate marketing brings to each party involved. 
Advertisers
Advertisers need to give out the part of their earnings to affiliates and affiliate networks. Still, the benefits this concept brings to their business easily make up for all their expenses. These benefits include: 
Cost effective customer acquisition – Advertisers only pay for the leads that subsequently become their customers.

 

Fixed costs – Network fees and affiliate bounty are usually fixed, and they can be easily added to the product price.

 

Better brand visibility – The affiliate marketing secures high search engine listing.

 

Narrowly targeted prospects – Many consumers who click on the ad won't conduct a purchase on the advertiser's website, but they'll still enter the sales funnel. Since affiliates choose only relevant ads, all the prospects that come through the affiliate link represent the advertiser's targeted audience.

 

SEO improvements – investments in affiliate marketing bring more visitors to the advertiser's website and improve its SEO rating.

 
Publishers
Many publishers use affiliate marketing as a form of passive income. For some of them, this is the main source of income and can bring thousands of dollars each week. The only requirement for publishers' success in affiliate marketing is a highly popular website or blog, with lots of interesting and useful content. These are some of the benefits affiliate marketing provides to the publishers: 
No investments – This concept doesn't require any type of the investment from the affiliates.

 

No operating costs – Publishers don't need to pay a dime for being the part of this operation.

 

It makes money 24/7 – Websites and blogs are visible all day long, so publishers can earn income even while sleeping.

 

No risks – since publishers don't need to invest money in this scheme, they also don't have risks.

 

No need for a warehouse – Affiliate marketing is similar to the eCommerce business model. Publishers act as salespeople, and unlike regular eCommerce schemes, they don't need to build their own payment platforms or use warehouses.

 
Consumers
Website visitors are the people who drive publishers' and advertisers' revenue. Most affiliate experts forget that this marketing concept also benefits the consumers, who are the most important element of affiliate marketing schemes. These benefits include: 
Good recommendations – Bloggers and webmasters usually advertise products that they personally use.

 

More information – Many affiliates build special pre-sale pages, which contain plenty of information about the products and lots of high quality images.

 

Sales and discounts – Affiliates always share information about the sales on their pages and, depending on their relationship with an advertiser; they can give out special discount codes to their visitors.

 
Affiliate networks are the players that benefit the most from the affiliate marketing operations. They use complex algorithms to connect the right advertisers with the right publishers and calculate their commission for every purchase. As you can see from this article, the affiliate marketing is a win-win situation, and that is why it is still one of the most popular forms of online advertising.