Facebook has over 2.1 billion daily active users globally and its membership is growing at a fast pace around the world. If you are a businessman or a digital marketer, you cannot – and should not – ignore social media giant Facebook And, the incredible reach and capabilities of  their hyper-targeting is something you hopefully are already taking advantage of.
Now we have to talk about What is Facebook marketing and how it can be done
.Facebook marketing
Facebook marketing refers to creating—and actively using—a Facebook page as a communications channel to maintain contact with and attract customers. Facebook actively provides for this, allowing users to create individual profiles or business pages for companies, organizations, or any group attempting to develop a fan base for a product, service, or brand
how to create a business page in facebook
1. Register for a Facebook Business Page
Facebook business pages are created using a personal Facebook account, so you'll need to first log in to your Facebook account. In the right-hand side of the blue toolbar, find and click the "Create" button.
Select "Page" from the Menu
A drop-down list will appear after clicking "Create." Select the first option, "Page," to create your Facebook Business Page.
Choose a Page Category
You will have the option between two page categories—a "Business or Brand" or "Community or Public Figure.
2. Enter Your Business Information
Tell Facebook what you want the name of your business page to be. This should be the same as your actual business name. Then, choose a business category that best represents what your business offers. For example, a  home decor could enter "Decor," which will then pre-populate a list of related options for you to choose from.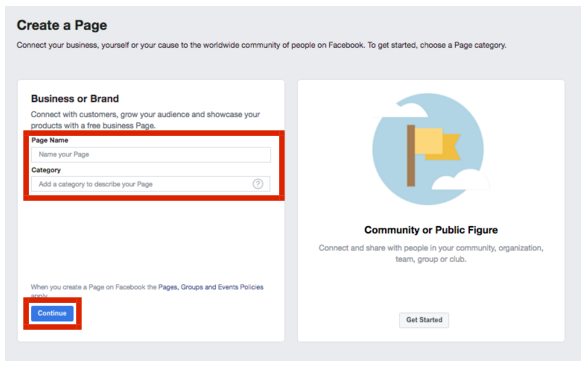 3. Upload Your Profile Picture & Cover Photo
Next, choose a photo to upload as your business page profile picture. Businesses commonly use their logo as a profile picture, but you may use any photo that represents your business and your business' branding. Be sure that your image is clear and doesn't get cropped.

Next, consider uploading a cover photo.
4. Invite Friends to Like Your Page
Facebook will prompt you to invite your current Facebook friends from your personal account to like your new business page. Existing Facebook friends can provide a good initial base of likes for a new Facebook Business Page, so it is advised to go ahead and do this.
5. Include Additional Business Details
In the left-hand menu, find and select "About." This is where you will input information that tells readers about your business, from ways to contact you to your products or menu. Enter all pertinent information, such as your website, hours, and contact information
Creating a Facebook Business Page is only the first step to using Facebook marketing for your business. You will need to be active on Facebook in order to market your page and grow an audience.