As use of the hashtag grew in popularity, other social platforms adapted the use of them, too. It's difficult to argue against the simplicity and effectiveness of the hashtag. It's easily created and searchable, and has become an extraordinary marketing tool for businesses, organizations, celebrities, and even the average individual.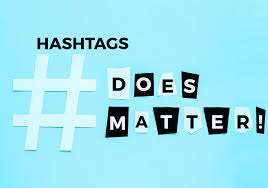 IMPORTANCE OF HASHTAGS
Despite many jokes and humorous sketches on the overuse of hashtags, when used properly, they really are an integral part of digital marketing. You can follow and engage with specific hashtags to stay updated on a current topic/trend, you can create your own hashtag to promote a new product or service, search a hashtag to cut through the digital clutter and find what you're looking for, and so much more.
If you're still unsure about the use of hashtags, we've highlighted below some of the main reasons, in our opinion, why hashtags are so important on Instagram  (and for all social media and apps!). If you have other reasons why hashtags are important, be sure to let us know in the comments below!
1. Competition
As with any business, it's important to figure out who your competition is, what they offer, and how they advertise, so you know what makes your business the better choice. You can use Instagram hashtags to research competitor accounts, their top posts, and their most-used hashtags. 
For example, let's say you are a graphic design freelancer aiming to grow your business. You would be able to log in to your Instagram account and go into the search bar to look for your competitors and discover the most used and popular hashtags on the "graphic design" topic. In the below screenshots, you'll see that under the "Top" category, there will be a list of all hashtags, accounts, users, and places. And to specifically look for graphic design hashtags, you would just click the "Tags" category and view that list.
2. Branding and Visibility
Branding and visibility are essentially the most effective uses of hashtags on Instagram. If you're a new business, you can utilize hashtags to expand your audience and increase brand awareness. When users search your brand, they'll see the relevant hashtags you're using; or when they search specific hashtags, they'll see your branded posts in the results. This usually results in gaining new followers and potential customers.
Or — whether new or more established — you can create your own hashtag for a product, service, or event you're promoting. You can encourage your followers and customers to use the hashtag when they purchase/use a product or service, or when they're at an event you're hosting. Creating your own hashtag (or choosing a hashtag with little use) gives you the chance to dominate that hashtag with your brand. Continuously including that hashtag in your posts not only helps increase your visibility (as all hashtag use does), but helps users begin to associate your business with that hashtag, further establishing your brand.
3.

Promotion

One of the main reasons hashtags have gained such a reputation on social media is because of their ability to help marketers and businesses create targeted campaigns. According to Tweetangels, "when it comes to promotion, think of hashtags as the 'word-of-mouth' method." In other words, when you post about a promotion, then your followers will use that same hashtag, then their followers will use it, and so on. Hashtags create great visibility for a campaign, and help you reach your target audience by using relevant hashtags that you know your audience is already following.

When used to promote an event, the hashtag not only connects you with your followers, but your followers with each other. The traction a hashtag can promote before, during, and after an event is substantial. 

Another useful tip for using hashtags to promote your business is to pair it with a giveaway promotion. Have a photo contest where people upload their photos under a designated hashtag to win a prize. In February, many businesses utilize this tactic for Valentine's Day promotions. Jewelry businesses have a best couple photo contest or a share your best love story contest for their followers to win free products.
4. Activism
With the entire world at our fingertips, searching about breaking news instantaneously is easy. Because of this, many political movements create a hashtag for their cause. This works basically the same as event promotion. People use the hashtag to say they're running a fundraiser event and users share their posts before, during, and after. A very recent example of this is the creation of the #MarchForOurLives, where vicitms of the Florida shooting want to raise awareness for school safety and gun control.
While many businesses remain politically neutral, some are unafraid to share their stance on political issues. And many customers are loyal to brands because of their political stance. So, depending on your brand, it may be beneficial to use hashtags to show your support for the causes you believe in.