Meaning:
Influencer Marketing is a hybrid of old and new marketing tools. It takes the idea of celebrity endorsement and places it into a modern-day content-driven marketing campaign. The main differentiator in the case of influencer marketing is that the results of the campaign are collaborations between brands and influencers.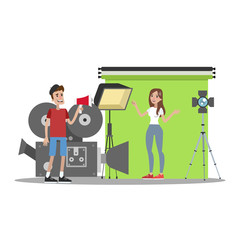 But influencer marketing doesn't just involve celebrities. Instead, it revolves around influencers, many of whom would never consider themselves famous in an offline setting.
Who are influencers?
Influencer marketing often goes hand-in-hand with two other forms of marketing: social-media marketing and content marketing. Most influencer campaigns have some sort of social-media component, whereby influencers are expected to spread the word through their personal social channels. Many influencer campaigns also carry a content element in which either you create content for the influencers, or they create the content themselves. Though social-media and content marketing often fit inside influencer campaigns, they are not synonymous with influencer marketing.
Influencers, unlike celebrities, can be anywhere. They can be anyone. What make them influential is their large followings on the web and social media. An influencer can be a popular fashion photographer on Instagram, or a respected marketing executive on LinkedIn. Within any industry, there are influential people you just have to find them. Some will have hundreds of thousands of followers. But many will seem more like ordinary people. They may only have 10,000 followers, less in some cases. Yet they will have developed a reputation for being the experts in their field. They are the go-to people that provide the answers to people's questions. Depending on their sphere of expertise, they are the people who make the most engaging social posts on their specialist topic. They share the best pictures, make the most entertaining videos, and run the most informative online discussions.
Conclusion:
Influencer marketing is the most effective way to re-engage and motivate consumers because it harnesses the power of authentic, meaningful content, created by consumers, for consumers. It's trusted and valuable rather than interruptive and contrived.