Remember back in the day when everyone, regardless of person or brand, had a personal Instagram profile? There were no bells and whistles, just a basic bio and your Instagram feed.
It just goes to show how quickly social media really does change, because in 2016, Instagram introduced business profiles, and they've definitely taken off from there.
At first, brands were wary about whether or not they should switch. After all, Facebook's algorithm favors content from family and friends over brands, so why wouldn't the Facebook-owned Instagram?
But the benefits are significant. Since the start of business profiles, contact buttons were born, Instagram shopping became more prominent, the platform launched its own analytics and now everyone, from corporations to startups to influencers, has an Instagram business profile.
Why create an Instagram business profile
If you're a brand looking to create a following on Instagram and use the platform strategically, you're going to need an Instagram business profile.
This is because there are so many added perks that improve usability as a brand. Let's dive into a few of the biggest benefits of using a business profile versus a basic personal profile.
1. You're taken more seriously
Take a look at the differences between the two Instagram profiles below. You'll probably notice a few of them.

Business profiles share the brand's industry, an address and a contact button right on the profile. (Ignore the fact that our Sprout Social business Instagram has story highlights and my personal profile doesn't – that feature is available on both personal and business profiles.)
Having the ability to offer even more information upfront, as well as additional contact information, gives your business profile a more professional look. And offering even more ways for your audience to get in touch with you has never been a bad thing.
Because the differences between the two types are so obvious, Instagram users can automatically tell when a profile is for a business, and it provides a greater sense of trust.
2. You get access to analytics
This is a big one. Switching to a business account gives you the ability to access built-in insights about your account and its performance.
You're able to take a look at your post performance, follower activity and audience insights. While these insights aren't extremely in-depth, it's a great glance at your account success and can give you a basic understanding of how well your content is doing.
And for more details on your analytics, you can always take advantage of Sprout Social's analytics options.
3. You can add links to your Instagram stories
Instagram is infamous for its inability to link directly to blog posts and landing pages from your posts, hence the popularity of 'link in bio' and tools designed to collect all your recent or important links on one Instagram-accessible page. However, accounts that have more than 10,000 followers gain access to swipe up links within Instagram Stories, but only if that account is an Instagram business profile.
While it might take awhile to get your Instagram account to 10,000 followers, if you create a successful Instagram strategy, you'll be linking content in your Stories in no time. Using Story links is a great way to highlight your latest content, highlight short-term deals or resurface timely content and products based on what's trending.
4. You can take advantage of Instagram advertising
Instagram ads and promoted posts are created through Facebook's ads manager, which means you must have an Instagram business profile that is attached to your Facebook Page to be able to create Instagram ad campaigns.
To help generate leads, increase conversions and get to that 10,000 follower threshold more quickly, your brand should be taking advantage of Instagram advertising. If you're struggling to increase your reach and overcome some of the challenges brands face from the Instagram algorithm, paid ads can help you target key audiences.
5. You can schedule your posts ahead of time
Another major Instagram update that's now a few years old, but had significant value for marketers was the ability for users to automatically schedule their posts instead of having to just schedule a reminder to manually post content.
However, the ability to use a third party tool like Sprout Social to schedule your content ahead of time is only available with Instagram business profiles.

So if you want to make your social media management easier, do yourself (and your marketing team as a whole) a favor and switch to an Instagram business account. With a tool like Sprout, you'll be able to get a more complete picture of your upcoming content calendar and it will be easier for everyone who contributes to this content to collaborate.
6. You can tag products in your posts
Finally, another great perk that's only available to business accounts is the ability to turn your feed into an online shop.
Tagging products and turning photos into shoppable posts is a great way to open an entirely new revenue stream for your brand, but you have to switch to or set up your profile as a business account first. Considering that 46% of users make a purchase after seeing a product on Instagram, and even more do further research on that product after viewing, it makes sense to facilitate this type of browsing as much as possible.
How to switch to an Instagram business account
Have you heard enough about the benefits of an Instagram business account? Ready to switch your account over to an Instagram business profile? Let's walk you through the process so you can start taking advantage of these great perks.
Step 1: Go to your Instagram account settings
Go to your profile, then tap the hamburger menu in the top right corner of the app. Tap Settings and then tap Account to get started.
Step 2: Switch to Instagram professional account
Once in the account settings, you'll see a blue call-to-action at the bottom of the page for you to Switch to Professional Account.
Tap that to move forward with your big switch.
Step 3: Choose a Business account
Selecting Business will allow you to start gathering impressions, reach, and video views within your reporting insights, as well as schedule content ahead of time using third party tools like Sprout Social.
Instagram recently rolled out a new type of business account – an Instagram creator account. These are more specifically for influencers, public figures or other types of content producers, whereas a business account is better for brands and businesses that sell a product or service.
This is a part of Instagram's effort to further separate influencers and businesses, making it more obvious for its users when a partnership is an influencer promotion rather than an ad.
The tools surrounding a creator account are slightly different from those accessible in a Business account, but they were created with influencer marketing in mind. There are also more features surrounding messaging and profile flexibility.
The core business profile features are still available, including shoppable posts. This means influencers will be able to tag the products they're recommending directly within their Instagram posts, offering even more streamlined shopping for all parties involved.
If you plan to partner with businesses as an influencer, you'll want to create an Instagram creator account. If not, including if you plan to partner with influencers to promote your products or services, you'll want to create an Instagram business account.
Step 4: Connect your Facebook Page
If you're moving forward in creating or switching to a business profile, your next step is to connect your Facebook Page. You must have admin access to your business Facebook Pageto take this action.
Once you confirm which Facebook Page you want to connect, your business profile is ready to go!
If you still haven't made the switch to an Instagram business profile, now is the time.
An Instagram business profile gives you access to more Instagram features – and it's easy for anyone to convert their personal profile to an Instagram business profile (even if you're not actually a business).
Plus, since you can now schedule posts directly to Instagram, if you switch to an Instagram business profile you can save hours on your Instagram marketing, every single week.
But that's not all – below is a listing of all the awesome features you'll get by switching to an Instagram business profile:
1. Schedule Instagram Posts with an Instagram Business Profile
As noted, Instagram recently announced major changes to their API – and for the first time ever Instagram now allows you to schedule Instagram posts.
Previously, when you wanted to "schedule" your Instagram updates, you would receive a notification or reminder when it was time to post, with your caption and photo. Now, Instagram's made the process a lot easier by allowing you to schedule posts which automatically publish to the platform – which means no more reminders, alarms, or push notifications needed.
But here's the catch – auto publishing to Instagram is only available to Instagram business profiles.  
Luckily, making the switch to an Instagram business profile is easy. Once you've connected your Instagram account to a Facebook Page, you'll be a few clicks away from scheduling your posts to publish automatically.
Unlike on Facebook, you aren't able to schedule Instagram posts natively within the Instagram app, so you'll need to use an Instagram scheduler like Later instead.
Now, you don't have to interrupt your busy workday or stop what you're doing just to post to Instagram, which is an excellent reason why you should switch to an Instagram business profile now.
2. Instagram Business Profiles Can Track Performance with Instagram Insights
Taking on your Instagram marketing efforts with a better understanding of what's working (and what isn't) will help you come up with a fine-tuned strategy, saving you lots of time and effort.
Instagram business profiles also give you access to Instagram's built-in analytics tool, Instagram Insights, which provides detailed information about who your followers are, when they're most active, and more.
Some of the most common performance metrics you can use for measuring the impact of your Instagram marketing efforts include:
Engagement rate: likes, comments, shares
Brand sentiment: how people are talking about your brand
Traffic: customers visiting your website
Sales: conversions and revenues generated
Having a clear view of your analytics will help you measure the impact of your Instagram strategy to see if there's something you need to do differently –  like target a different audience, experiment with new content, or post at different times of the day.
Boosting a post on Instagram
We all know Facebook's organic reach is dying! And boost post is a savior. But, boosting your post on Facebook through the Advertisement Dashboard has some key glitches. I will tell you what they are:
When you promote your post on instagram through Facebook advertisement dashboard, your posts definitely reaches out to your audience on Instagram. They even react to it but the problem is the likes and comments received on them disappear as and when the advertisement is stopped.

Instagram posts couldn't be boosted in the past. So earlier you only had the organic and hashtag success. The number of hashtags, quality of pictures and the number of followers would determine the percentage of engagement.

Things have changed now!

Facebook, the king of innovator or replicator now allows you to boost your post on instagram. How does this really help marketers and Facebook?

It helps Facebook: Snapchat is not so advertising friendly in many countries yet. This move from Facebook is a great advantage for the brand to steal the marketers attention from snapchat to instagram. Also, a lot of small business owners use instagram to sell their goods. Especially the fashion accessories and clothing brands. For them this feature is a great sense of relief, which helps fetch Facebook some good revenue.

For Marketers: When you promote your post on instagram reach is going to be only on instagram and the likes and comments on posts will get stored on the post.

In the social media marketing world, marketers reminisce about the times where they could fill up on organic reach a lot like my parents reflect on their college years — those were the good old days.
The real world flipped most people's life upside down when they graduated from college, but social media's purge of organic reach flung marketers on a spinning teacup ride.
With almost 3 billion social media users today, millions of brands have promoted their content on these platforms for years. But the popularity of social media has flooded each platform with hoards of articles, photos, and videos, skyrocketing the supply of content while the demand for it has plateaued. This has decimated the amount of opportunities that brands can leverage to interact naturally with their fans.
Needless to say, social media marketing is a pay-to-play strategy now. And one of the most effective ways to leverage paid social media advertising is by boosting your posts.
1. Click the "Promote" button at the bottom of your post.
2. Pick a goal.
Before you boost your post, Instagram will ask you whether you want to attract more profile visits, website traffic, or promotion views. Whatever your goal is for the specific post you want to boost, make sure you choose the option that best aligns with it.
3. Choose an audience.
After choosing your goal, you can pick from three different targeting options: Automatic, Local, and Manual. Automatic tells Instagram to target people who are just like your followers, Local lets you target people in a specific location, and Manual lets you target specific people, places, or interests.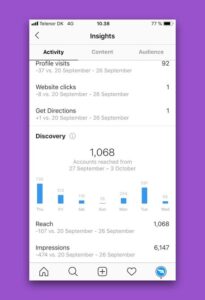 4. Set your budget and duration.
Instagram will estimate the expected reach and clicks that your post will attract after you set your post's budget and ad duration.
Reach New People
If you're struggling to find and grow your Instagram audience, promoting a post is a great way to introduce yourself to some new people. Just getting your foot in the door and reaching the right people is a struggle, especially when you're just starting out. Promoting a post will allow you spread brand awareness and get your content in front of people who may never have stumbled upon it organically.
When you're filling in the details for your promoted post, you'll have the option either customize your audience or allow Instagram to automatically create an audience based on people who might be interested in your business. This "Lookalike" audience is generated based on your existing IG followers, which, provided that your existing follower list is reflective of the type of people you want to reach, can yield some pretty good results. It also requires less time, research, and effort than creating your own audience profile through the Ads Manager.
Capitalize on Momentum from High-Performing Posts
If you have a post that's already performing well with your existing followers, promoting it can give you a nice boost in your follower and engagement metrics.
While an organic post may burn out quickly after a few of your followers have had a chance to see and engage with it, promoting your post will give it new life and keep it relevant on the platform for longer. So, if you have a piece of content that you're particularly proud of, and you want to get it out to more people, promoting it may be the way to go.
Create a Call to Action that Brings in More Customers Online and IRL
Traditional IG posts do not allow you to link to your website or other relevant sources. However, with a promoted post, you gain the option to add a Call-to-Action button to your post. Adding a CTA button to posts with high engagement can help you to direct traffic to where you want it to go, effectively converting those IG likes and comments into action