Meme Marketing
Meme (pronounced as meme) is an element of culture whose styles, concepts, and behaviour can be indefinitely imitated. But when we talk about internet meme, it refers to a humorous image or video having a definite style and concept which usually go viral on the internet. The style and the concept of the image stay the same whereas the copy changes.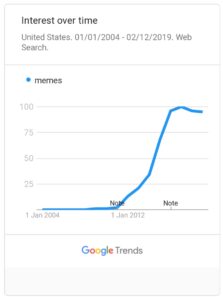 Memes are taking over the world, and yes it is right, memes are now like a remedy to treat depression, anxiety, sad thoughts, and unwanted vibes.
Every social media platform, newspaper or any other communication mediums are using and utilizing memes to make their content more compelling, humorous and relatable to the common public.
Known for their catchy, funny and self relatable humour, memes that started as inside and sarcastic jokes, now being used by big brands, organizations, newspapers, small businesses, and celebrities to build a huge fan following and engage them on a daily basis.
This whole phenomenon has started a trend of meme marketing, and marketers in every spectrum are going crazy to customize their marketing strategy as per the current meme trends.
So, Let's Define A Meme
We can define a meme as an idea or concept majorly bundled in the form of images, videos, animation, hashtags or gifs that represents sarcasm, humour, and seriousness of the subject in an amusing way. This kind of content has become the new language of social channels and holds the power to become viral in a short time.
A subset of viral marketing, meme marketing is more than just a digital trend, and it's here to stay for a longer time
Benefits of Reusing The Popular Memes
They are already great content for the social platforms
They will work like magnets for engagements, likes, and traffic
Quick and easy to create because you already have the concept
Best Tools To Hijack and Search The Most Popular Meme Templates
Meme Generator
Quick Meme
Make A Meme
IMGFlip
Adobe Spark
Canva
How to create creative and highly fascinated memes from scratch?
Research Properly
Fragment The Audience
Use Tools Like Google Trends, BuzzSumo, Google Alerts, etc
Be Creative
Include Humour
Be Sarcastic
Relate it with the Common Issues
Use your wit in the caption
Always Play with Hashtags
The Benefits Of Meme Marketing
When it comes to marketing, there are plenty of benefits of memes that allow them to connect with audiences much better than traditional methods.
One of the best benefits of memes is that they are very easy and cheap (mostly free) to make. With plenty of free online meme creators available, unlike other methods of advertising, you can create a whole range of memes for free which greatly increases your chances of a return on investment.
Examples
Netflix Meme Marketing

Known for its large online social media following, Netflix currently has over 6 million followers on Twitter and 61 million likes on Facebook. But that doesn't stop them from growing their audience with funny memes.
BarkBox
BarkBox is a monthly subscription box that is full of toys and treats for dogs.
With over 300k followers on their Twitter page and 3 million likes on their Facebook page, BarkBox has managed to grow its audience using a range of relevant and dog-related memes. Here are some of their most successful memes from their Twitter page.
Conclusion
Memes continue to grow in popularity; meme-related content is showing up across visual content platforms like Tumblr, Pinterest, IGTV, LinkedIn, and Twitter. There are more people than ever creating and consuming memes online.
Many brands use memes as an effective vehicle for their marketing strategy. Like most creative processes, trust your instincts on humor. If you don't think a meme you've created is funny, interesting, or insightful, your customers probably won't either. Use your best judgment and know that the more memes you consume, the better you'll be at creating them. Go forth and meme!