Whichever social media platforms your brand uses as part of its social media strategy, knowing how to use hashtags will help boost your brand's social media engagement.
But if you're sticking with #ThrowbackThursday posts on Twitter, unsure of how else to use hashtags, stay right here. Your brand can do a lot more.
This post breaks down the basics of effectively using hashtags on social media and why you should use them.
You'll also learn:
how to find hashtags that will work best for your brand
why using only popular hashtags isn't the right approach
essential tips for using hashtags on every social media platform out there
What is a hashtag?
The pound symbol on your keyboard—also called an octothorpe— was initially used to mark numbers.
They were first used as hashtags in the summer of 2007 by Chris Messina. That's when the web marketing specialist walked into Twitter's offices with an idea. Because of the platform's brevity, he suggested the company start using the pound symbol to group related Tweets together.
This was the first-ever use of the hashtag:
Since then, the use of hashtags, their reach, and their effectiveness has only grown.
Think of hashtags as a way to connect social media content to a specific topic, event, theme or conversation. They also make it easier to discover posts around those specific topics, because hashtags aggregate all social media content with that same hashtag.
They're not just for Twitter anymore, either. Hashtags are effective on other social media platforms too.
Hashtag basics
They always start with #

 

but they won't work if you use spaces, punctuation or symbols.
Make sure your accounts are public.

 

Otherwise the hashtagged content you write won't be seen by any non-followers.
Don't string too many words together.

 

The best hashtags tend to be relatively short and easy to remember.
Use relevant and specific hashtags.

 

If it is too obscure, it will be hard to find and it won't likely be used by other social media users.
Limit the number of hashtags you use.

 

More isn't always better. It actually looks spammy.
Why use hashtags?
Increased engagement with your followers
Including hashtags in your posts means taking part in a conversation happening on that social media platform. And most importantly, it makes your posts visible in that conversation.
This can lead to greater engagement, boosting your brand's social media engagement through likes, shares, comments, and new followers.
An opportunity to build your brand
Creating a branded hashtag can be an effective way to promote your business and drive conversation.
For example, the Raptors' branded hashtag #WetheNorth lit up during the team's winning 2019 season. It has universal appeal, and was one of the most-used hashtags by Canadians in the first half of 2019.
Way to show support for social issues
Using a hashtag that's connected to an issue beyond your brand is a way to mobilize behind an important cause or issue.
For example, #EachforEqual and #IWD2020 were used across social media platforms, including LinkedIn, on International Women's Day.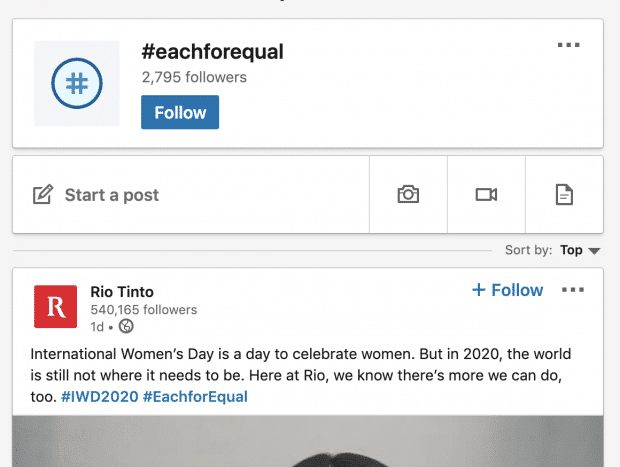 Brands can also create a branded hashtag that also shows its connection to a social issue.
For example, the Canadian telecommunications company Bell uses the branded hashtag #BellLetsTalk to promote mental health awareness.
Add context to a social media post
On Twitter, you don't have a ton of space to write a caption. You have 280 characters, to be exact.
On Instagram, longer captions aren't always the most effective. Same with Facebook, Pinterest, LinkedIn or any other platform—sometimes less is more.
Using a hashtag can be a simple way to contextualize what you're talking about, without using up valuable characters or writing repetitive captions.
Help your target audience find you
On Instagram and LinkedIn, users can follow hashtags as well as other users. Using a few popular hashtags can be another way to help new users find your brand.
For example, if you use #travel on your Instagram posts, someone who follows that hashtag will see your recent post in their feed. You might gain some new followers this way.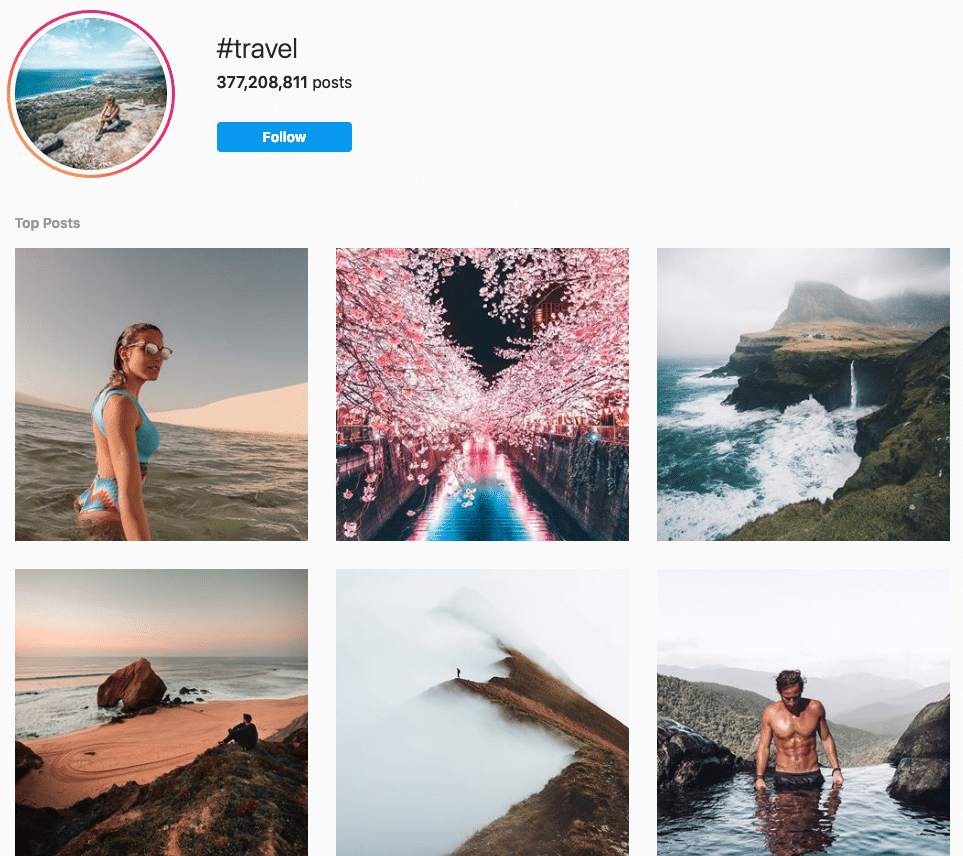 The most popular hashtags
The most popular hashtags out there aren't necessarily the best hashtags.
For example, the hashtag #followme has more than 515 million posts on Instagram. Hashtags that solicit likes don't engage your followers and don't add any meaning to your social media post.
They also look really spammy. And you don't want that.
But don't ignore popular hashtags, either. For example, #throwbackthursday or #flashbackfriday or other daily hashtags can be fun ways for your brand to join a wider social media conversation.
As of March 2020, some of the most popular Instagram hashtags of all time include:
#love (1.7B posts)
#instagood (1.1B posts)
#photooftheday (763M posts)
#beautiful (639M posts)
#happy (564M posts)
#picoftheday (551M posts)
#photography (537M posts)
#nature (494M posts)
#instagram (439M posts)
#food (376M posts)