Looking for a fun way to engage people on social media? Have you considered using memes in your marketing?
What are memes?
A meme is a concept, joke or catchphrase that is shared online for humorous purposes. Most memes usually take the format of an image, but they can also be videos or just text.
Memes have been around since the early-mid-1990s when the internet was becoming popular but in recent years have exploded and show no signs of stopping.
These memes often take certain formats based on the joke and are re-made and shared by other users who continue the trend.
New meme formats and templates are being created every day; keeping up to date with the latest memes is as socially important as keeping up with the latest fashion.
What is Meme Marketing?
Meme marketing is one of the most powerful social media marketing strategies out there today. With social media continually on the rise, meme marketing has transformed hundreds of brands social media market strategies.
No matter what social media you use, you can't escape the millions of memes that are posted daily.
Known for their funny and unique humor, these memes that started off as inside and funny jokes are now being used by brands to boost their social media following.
Now you've got a good idea of what a meme is, let's understand the need of memes in social media marketing.
Memes Are Inexpensive Content
Memes play off of content that's created by other people so you don't need to create an original video or photo yourself. They save small businesses and digital marketer's time that would be needed to produce original content.
Instead, you can riff off of existing media by adding a new caption or twist. Also, memers' value DIY, low-resolution content so don't worry if you have limited design skills.
Meme-Based Content Incites Shares
By definition, memes are supposed to be shared so the content is often reposted and re-memed across the internet to reach an even wider audience. When people send the meme to a friend for a laugh, they express allegiance to and advocate for your brand.
Memes Create Brand Relevancy
Because memes are often related to a current trend or event, they make your brand more real, modern, and human. Memes appeal to cultural events your viewers know about, which feels authentic and fresh. This content serves to bring a community together around a common touchstone and makes your brand seem more relatable.
Memes Support a Sense of Community
Memes are funny, and that helps foster community among your followers. They create a sense of belonging because your audience can relate to the situation you refer to and everyone's in on the same joke.
Meme Marketing Examples
Memes have been in trend worldwide and India is no exception to this viral fever of memes. Here are examples of some famous trending memes of 2020.
Funeral Coffin Dance Memes
Nowadays in this quarantine period, pallbearers are immensely getting viral on Instagram, Twitter, TikTok and on other social media platforms like never before.
Lock down/Quarantine Memes
Corona virus Memes
Corona virus is nothing but a new trending topic for our memers to supply us with new memes this month, they just never leave any chance to entertain us with their evergreen content.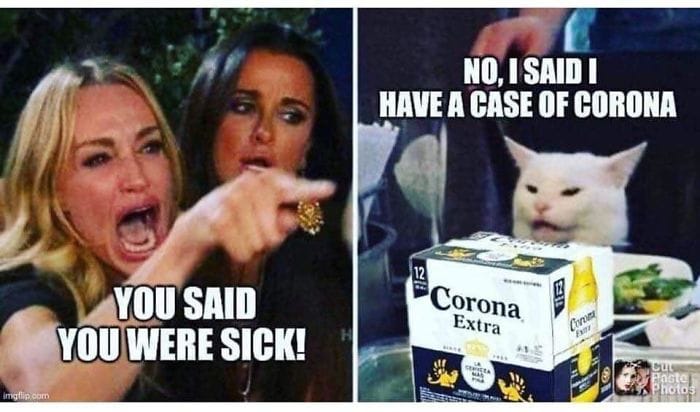 Now let's have an idea of how brands are using memes to great success, here are some of the most successful meme marketing examples in recent years.
Netflix Meme Marketing
Known for its large online social media following, Netflix currently has over 6 million followers on Twitter and 61 million likes on Facebook. But that doesn't stop them from growing their audience with funny memes.
One of the most recent examples of a successful meme marketing campaign from them is their campaign for the movie Bird Box.
Produced and released on Netflix as one of their Netflix original movies, the movie was promoted via social media using a range of funny and viral memes such as the one below.
Bark Box
Bark Box is a monthly subscription box that is full of toys and treats for dogs.
With over 300k followers on their Twitter page and 3 million likes their Facebook page, Bark Box has managed to grow its audience using a range of relevant and dog-related memes. Here are some of their most successful memes from their Twitter page.
Now you've seen the power of memes and how they can help boost your brand with little to no investment, how do you utilize the power of memes for your own brand?
From the examples we've shown above, there are plenty of different meme templates and formats to choose from, you just need to find the best ones for your brand. This can vary depending on what type of product or service you are selling, but overall, most meme formats can be adjusted to fit almost any product.
So now you have a good understanding of memes and how brands use them to increase their brand exposure, what are you waiting for? Get out there and make some original and quality memes to share with your audience!