Search Engine Marketing (SEM) is an umbrella term that refers to the process of driving traffic and gaining visibility from search engines through paid ads (SEM) and free, organic listings (SEO). The paid SEM efforts usually take shape of PPC (pay-per-click) and CPC (cost-per-click) ads.
Search engine marketing is the practice of marketing a business using paid advertisements that appear on search engine results pages (or SERPs). Advertisers bid on keywords that users of services such as Google and Bing might enter when looking for certain products or services, which gives the advertiser the opportunity for their ads to appear alongside results for those search queries.
These ads, often known by the term pay-per-click ads, come in a variety of formats. Some are small, text-based ads, whereas others, such as product listing ads (PLAs, also known as Shopping ads) are more visual, product-based advertisements that allow consumers to see important information at-a-glance, such as price and reviews.
Search engine marketing's greatest strength is that it offers advertisers the opportunity to put their ads in front of motivated customers who are ready to buy at the precise moment they're ready to make a purchase. No other advertising medium can do this, which is why search engine marketing is so effective and such an amazingly powerful way to grow your business.
According to a deeper Wikipedia definition, "Search engine marketing is a form of Internet marketing that involved the promotion of websites by increasing their visibility in search engine results pages (SERP) through optimization and advertising."
The Most Popular Search Engines
Google. The world's biggest search engine with 77.82% of the global market share, Google is a marketer's primary choice for both paid and organic reach. Google has 1.6 billion estimated unique monthly visitors worldwide.
Bing. Bing has 400 million estimated unique monthly visitors and 7.96% of the global market share. Bing often generates twice as many autocomplete suggestions as Google and has a great video search, therefore Bing Ads are also a popular advertising option among marketers.
Baidu. Baidu is the most popular search engine in China with over 80% of the Chinese market share and 6.37% of the global market share.
Yandex. Yandex is the leading search engine in Russia and other Russian-speaking countries (Belarus, Ukraine, Kazakhstan) with about 60% market share.
Yahoo. With 300 million estimated unique monthly visitors, Yahoo has 6.58% of the global market share and mainly competes with Bing. It's worth noting though that Verizon has purchased Yahoo for $4.8 billion dollars and is planning to merge it with Aol, which has 125 million estimated unique monthly visitors and 0.13% of the global market share.
Benefits of SEM (Search Engine Marketing)
1. It's Instant Brand Awareness in Search Engines
As stated, SEO and unpaid social media take time. Google says it can take up to a year for a quality site to scale the rankings. And your ability to do so depends on strategies applied and what the competition is doing.
In contrast, SEM positions you at the top or bottom of page one. A business that has no current visibility or brand recognition can instantly get some attention.
If you have the right systems in place to turn this visibility into paying customers, that's a huge impact on your revenues.
2. It Can Generate Revenues Quickly
With the right ad copy and strategies in place, see sales coming in the same day. It doesn't need time to rev up. It's really easy to get started with something like Ads.
It does, however, require maintenance to get the right SEM ROI.
3. It Grows with Your Business
What is SEM? It's incredibly scalable. It's easy to start small. Test things out. See what works. Keep costs low if you have a very limited budget.
Then as revenues go up thanks to SEM, increase the number of ads. Remove ads that aren't working. Refine your campaigns. And increase your daily ad spend.
In Ads and most other PPC platforms, you can set a daily budget of as low as $10. This way you never get surprised by a really high bill for advertising.
4. It Reaches People in the Right Place & Time
Nearly half of the world's population is now online. Over 93% of online experiences start with a search engine. Search engines drive more traffic to websites than any other source.
It doesn't matter what your product or service is. With only some rare exceptions, their journey starts online.
Being visible in search results means being where the customers are. It's also the perfect time to earn a new customer.
5. It Reinforces Name Recognition
When you get a new customer, you may think that person just found you and made a purchase. But chances are that journey started days, weeks, or even months ago. The way you consistently and repeatedly presented your brand during that time has helped turn a prospect into a paying customer.
Recognition becomes familiarity. People notice brands they're familiar with over brands they aren't. Most people would rather spend a little more with a brand they know than a no-name brand.
6. It Reaches Your Prime Target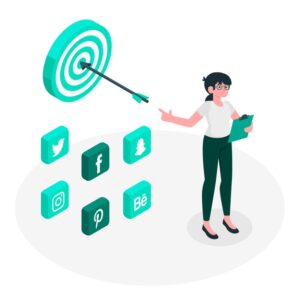 Search engine marketing allows you to get really focused in on your target customers in a way you never could with traditional marketing. Why? Because it would be insanely expensive the traditional route.
An ad in Ads doesn't cost you anything until someone clicks it. You can create 10. Or create 100.
We don't recommend you try to manage that many at first. But the more targeted you can make that ad, the better that ad will perform with customers.
7. It Can Give You a Competitive Advantage
Through exceptional SEO, does your competitor already have a coveted top spot in the organic search results? You can appear above them with paid ads. Swipe a click that would have been theirs.
The vast majority of businesses aren't using SEM to its full potential. They're paying more and getting less because of it. Chances are your competition is one of these.
With a strong SEM strategy and compelling copy of your own, you'll have the advantage over the less savvy competition. Have a smart competitor? The right strategies can also outsmart them to increase your own market share.
8. It's less Expensive than Traditional Advertising
Why is SEM so much more affordable than traditional marketing? It's simple. Because, you're in control. Here's how.
You're not paying $1M to reach 10,000 people who watch a specific program but may or may not be your target customers. Instead of very broadly targeting a demographic as you might in a TV ad, you can place a narrow focus to increase the conversion rate.