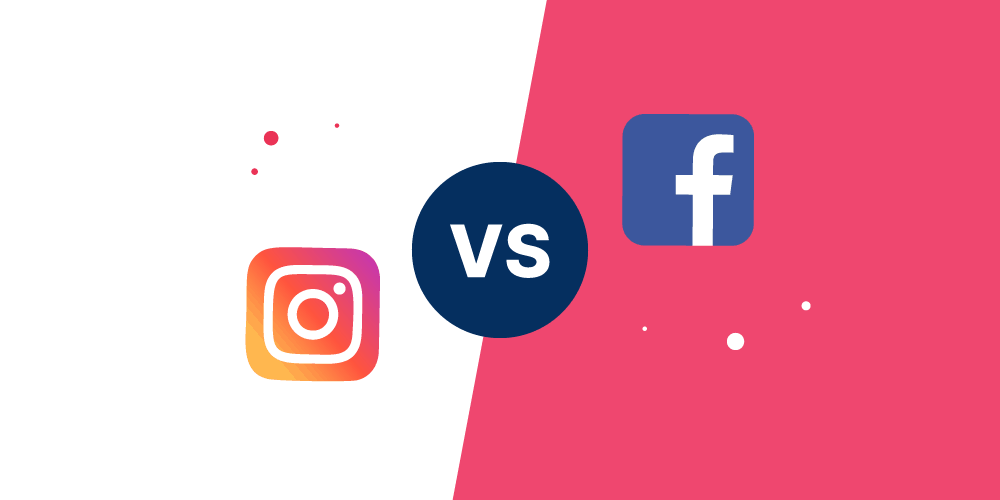 Facebook was once one of the most popular social media platform used all over the world but soon the Instagram is launched, teenagers have been moving from Facebook to Instagram due to various reasons. Facebook owns both platforms but Instagram is growing faster than Facebook. The Instagram growth rate is much higher than Facebook and it is growing very fast and their users are increasing day by day. Both sites are providing a unique opportunity for your business to attract customers but here are some of the reasons that make Instagram better than Facebook.
1. Instagram is Mobile Friendly
Instagram is a mobile app social networking platform while Facebook was Desktop website now they have a mobile version too. But Instagram is more mobile and user-friendly that's why Instagram is getting more engagements.
2. Instagram Engagement rate is higher than Facebook
When it comes to engagements, Instagram is the winner and getting more engagement than all other social media platforms. Instagram engagement rate is higher than all other platforms that's why businesses are getting more success on Instagram. A study found comparing average likes per post on Facebook and average likes per posts on Instagram. They found that Instagram is a clear winner and getting more Instagram likes on posts.
3. Ease of use

Instagram is a lot easier to use than Facebook because the main purpose of Instagram is to post photos. It is all about pictures, and everyone likes them by just tapping on the screen. Naturally, you'll scroll through the pictures and videos either by liking, commenting or sharing. The user interface of Instagram is catchier than Facebook.
4. Fast, Safe and Personal
Instagram is faster in speed for fetching content as compared to Facebook. The main benefit due to which Instagram steps higher than Facebook is because it is more secure and personal. Everyone has their personal accounts and they can allow only those whom they know to follow each other. Whereas in Facebook, anyone can check in your account and see what you've shared across your wall. Talking about Instagram, you can see only those pictures and videos of the people you followed. This feature of Instagram stands higher compared to other social media platforms.
5. More Social
Instagram also allows you to browse through trending news, pages, topics, posts even if you are not following them. However, Facebook only suggests you pages and people but never share their content.
6. A better place for Brands
From marketing point of view, Instagram wins again because they haven't made their application complex and they make fewer changes to their algorithm which gives more attractive and clean user experience. While, in comparison to Facebook, they constantly make amendments to their display algorithm for news feed which makes it difficult to gain organic reaches for brands posts.
7. Built-in Messaging feature
This feature of Instagram is also really impressive because it allows you to send or receive messages from your loved ones using the same application using built-in messaging feature. While Facebook has a separate application known as a messenger for sending and receiving messages.
8. Better stories integration
The idea of stories function was taken from Snapchat, which inspired both Facebook and Instagram to integrate a stories function in their apps.  However, Instagram wins again because it has better stories integration. While the interface between Facebook news feed and stories is a week and not attractive as compared to Instagram.
9. Reach
Instagram has more than 1 billion monthly active users and 80% are outside from the US. That means Instagram has global reach.  Facebook users are also from all over the world, but they are switching to other platforms such as Instagram, Snapchat.
10. Integration of E-Commerce
Facebook is an excellent platform for businesses and advertisers to promote their business, But Since Instagram launched advertising, businesses are getting more success on Instagram. Instagram is also providing great features for E-commerce business to promote their products and sell on Instagram. Instagram also provides unique ads that attract more traffic and advertisers are getting more benefits from Instagram.
I hope this article is helpful to let you know why Instagram is far more better than Facebook for marketing your business digitally.