White hat SEO refers to SEO tactics that are in line with the terms and conditions of the major search engines, including Google. In other words, white hat SEO refers to any practice that improves your search rankings on a search engine results page (SERP) while maintaining the integrity of your website and staying within the search engines' terms of service. These tactics stay within the bounds as defined by Google.
White hat SEO is the opposite of Black Hat SEO which are Shady links and strategies that were designed to "trick" Google. Even though these shady tactics worked temporarily… they don't last. That's why you should always choose White hat SEO approach.
Now I will tell you some amazing white hat SEO strategies which will help you to rank on Google's first page.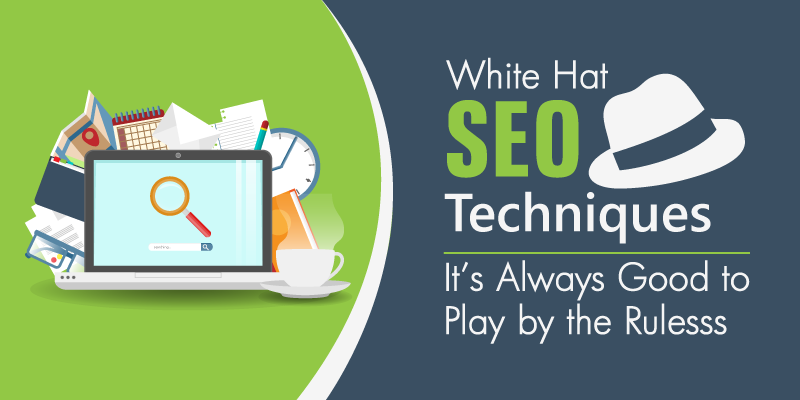 1. Keyword Research
Keyword research is the process of finding words and phrases that people use in search engines in order to optimize content around and rank for those terms in search engines.
I'll walk you through 3 proven keywords strategies that I personally recommend you to use.
#1 Find awesome long tail keywords with Google suggest:
Most people struggle with SEO because they target keywords that are too competitive. That's why Google suggest is so important.
This is very simple to use, you just need to type in a keyword that you want to rank for, and write down the keywords that Google suggests. These suggested keywords are long tail keywords that aren't so competitive. But if they are showing in Google's suggest then they are important.
#2 Google Search Console:
Google Search Console is a free service from Google that helps you monitor and troubleshoot your website's appearance in their search You can see your performance report in Google Search Console to find and fix technical errors, submit sitemaps, see back links, and more. You can take note of any keywords that you could create a great content from.
#3 Copy Competitors Keywords:
Either you can spend hours searching around for the right keywords, or you can steal the exact keywords that your competition is targeting. This is less time consuming strategy and trust me it's very effective
2. On-page SEO
On-page SEO is the practice of optimizing individual web pages in order to rank higher and earn more relevant traffic in search engines.
Let's drive into 4 amazing On-page SEO strategies:-
#1 Descriptive URLs:
Google uses your page's URL to understand what your content is about.
So your URL (Uniform Resource Locator) should be descriptive, simple, Short & Keyword –rich.
 #2 Internal Links:
Internal links help Google to understand your content better. You must wonder how? Google looks at the anchor text that you use in your internal links.
Anchor text with rich keyword helps Google understand the topic of the page that you are linking to.
Internal links send link authority to pages that need a boost ranking.
#3 Use keywords strategically:
Use your target keywords and their related words, a handful times on your page.
Use your keywords as naturally as possible.
#4 Optimize images with Alt Tags
Search engines like Google, Bing etc can't see your images until you optimize them using descriptive alt tags. As Google rely on the text they see in "Alt Tags".
When you optimize your images with descriptive alt tags, Google can get a full grasp of your content's topic which can help in rank for more keywords.
3. Amazing Content
Content plays an important role in search engine optimization. When you consistently publish great content on your site, you can easily rank in the top of Google's first page.
You just need to make sure that you use these 2 amazing features before publishing your content.
#1 Great user experience and readability:
Remember, Google always tracks how people interact with your site.
Specifically, Google pays attention on the amount of time that people stay on your page.
So make sure your content is super easy to read and understandable.
#2 Satisfies, user intent:
Google can measure whether searchers are satisfied with a particular set of search or not with the help of an Artificial Intelligence Technology called Google Rank Brain.
So basically if your content gives what searchers want then Google will rank you higher.
4. Link Building
Link building is the process of building hyperlinks (back links) from other websites to your own. If you want to rank to rank your site to the top of Google's search results, you will need lots of back links.
There are 3 amazing white hat link building strategies:-
#1 Broken Link Building:
In this strategy, first you need to find out a page that you would like to get a link from.
Next, scan that page for broken links and ask the person to replace their broken links with your page links.
This strategy helps you to create more back links to your page which eventually helps in ranking high.
 #2 the skyscraper technique:
Skyscraper Technique is a system for turning content into high quality back links.
Here's how it works: You start by researching popular trends, topics, and already well-received pieces of existing content across the topic areas your business typically covers.
Then, you look for new and unique ways to create content that communicates a similar message — with a twist.
 #3 Guest Posting:
"Guest posting" means writing and publishing an article on someone else's website or
You can publish guest posts on authority sites in your niche business.
5. Technical SEO
Technical SEO refers to improving the technical aspects of a website in order to increase the ranking of its pages in the search engines. Making a website faster, easier to crawl and understandable for search engines are the elements of technical optimization.
Technical SEO can make or break your entire site's SEO efforts. So here are some best technical SEO practices:
#1 Speed up loading time:
How do you know, if your site is fast enough?
Page speed has become an important ranking factor in mobile search.
Unlike Google, tools like Page Speed insights, web page test gives you a lot of details on your site's performance and helps you with actionable things to reduce your site's loading time.
#2 Use a smart site Architecture:
Site architecture means, how the pages on your site are arranged & organized.
Your goal should be to keep your architecture "flat".
Flat architecture helps link authority flow from one page to another which can improve the search endings for every page on your site.
#3 Fix errors:
Use the help of Google search console to find errors and problems with your site's technical SEO.
 #4 Be mobile friendly:
Google has changed it's algorithm to mobile first search indexing
Google considers the mobile version of your site, the only version that matters.
its important to use tool like "the mobile friendly test" to make sure that Google considers your site easy to use for mobile searchers.
Okay, so these were the 5 amazing White hat SEO strategies which are very important for your site. i hope this content was helpful for you. Do try these amazing strategies.