As a result of the advancements in various Machine Learning techniques, Artificial Intelligence (AI) has been playing a significant role in the field of Digital Marketing. A survey conducted by Salesforce showed that nearly 51% of the marketers are already using AI, as of 2018. Many Marketers and Businesses have seen massive results by incorporating AI in their Digital Marketing Strategies. This led to Artificial Intelligence gaining more popularity in the recent years. So, it is safe to say that AI and Digital Marketing go hand-in-hand.
WHAT IS AI?
Artificial Intelligence provides machines with the ability to analyze data and perform cognitive tasks. It observes and thinks like a human to take relevant decisions, making the work of planning and execution quicker and simpler.
Although most people might argue that this will replace humans, AI actually helps them by streamlining the process. Once the requirements are set and the inputs are given, AI automates the whole mundane process. This ensures that humans are not burdened with any tedious work.
BENEFITS OF AI IN DIGITAL MARKETING: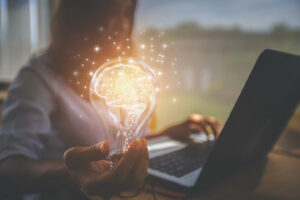 Increased Productivity and ROI: Using AI in Digital Marketing raises the level of productivity, since the processes are automated based on the instructions given. AI is also capable of understanding which content performs better and helps with content curation. As a result, the right content reaches the right audience, thereby increasing the ROI.
Enhances Users Experience: Artificial Intelligence uses the concept of Machine Learning(ML) to learn about its users. It is capable of studying their patterns to show content according to their preferences, keeping the audience interested and engaged. When people have a good user experience, they are more likely to buy the products or services.
Predictive Analysis: Marketing, Digital or Conventional, requires some level of guesswork. When a new Marketing Strategy is to be implemented, certain assumptions are made to target the right set of audience. Artificial Intelligence does this guessing through a series of prediction analysis and algorithms. It analyses previously collected data to make corresponding predictions. This is beneficial to make appropriate decisions while carrying out marketing campaigns.
Allow Real time Tracking: Platforms that have incorporated AI allow users to track the performance of their contenton a real-time basis. This means that somebody employing Digital Marketing for a business can view results instantaneously and plan their next strategy accordingly.
Insights Integration: Insights, in this context, refers to the metrics that determine how well a particular piece of content is performing. In the case of Instagram, it could be the number of likes and comments, along with the number of people who saved the post. On Facebook, it can also include the number of times a particular content material has been shared. This is done by using AI to study the pool of customers associated and monitoring their response to the digital marketer's content. Therefore, insights not only convey how each post is perceived by the audience, but also act as a parameter to define future Marketing campaign plans.