The quote "Content is King" is originally from an essay Microsoft founder Bill Gates wrote in 1996. In it, he describes the future of the Internet as a marketplace for content. The phrase "content is king" is not new, but because of the increased focus on content marketing strategies, the quote is used very often.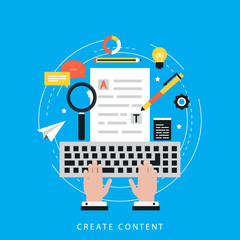 Content is King in Marketing:
Create the type of information your buyers actually want to consume. Marketing with valuable content is a win-win for your company and its customers  your potential clients get the information they require and you get to demonstrate your expertise and usefulness.
If you want to reap the rewards that valuable content brings, you need to start communicating differently. There are different rules of engagement here. The valuable content approach is not about continuing to holler about how amazing your firm is, as we all did in the past. Unthink what you learned about sales and marketing messages.
Not Easy But Essential:
Creating and consistently delivering this type of information takes effort. You need to build a deep understanding of the needs of your target clients and of where and how you add value. It also takes time and skill. Valuable content may not be easy but it is an essential tool if you are going to grow and sustain a successful business in today's web-driven world.
Role of Marketing In Search Engines:
Search engines like Google are the go-to place for every consumer in search of answers to their questions. Most consumers are looking for your products and services using search engines. To ensure your prospective customers reach you, it's important to be present when they Google it. It's important for a brand to stand out from the crowd, and content marketing helps you do just that! It shows the world what's special about your company and why the customer should purchase from it.
Conclusion:
"Content is king" is very often used in conjunction with content marketing and SEO. It implies that unique, high-quality, interesting and relevant content contributes significantly to the success of companies on the Internet. Companies should, therefore, primarily think of great content before they take further measures in their search engine optimization strategy. In content marketing, the quality of the content offered will decide the level of your success.