Content marketing is a type of digital marketing that focuses on creating and distributing content for a target audience. The content aims at being valuable, relevant, and (ideally) consistent. Its ultimate goal is to drive a profitable customer action.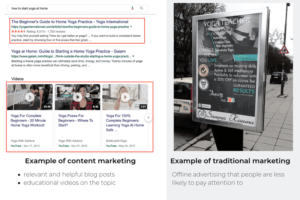 Content marketing attracts prospects and transforms prospects into customers by creating and sharing valuable free content. Content marketing helps companies create sustainable brand loyalty, provides valuable information to consumers, and creates a willingness to purchase products from the company in the future. This relatively new form of marketing does not involve direct sales. Instead, it builds trust and rapport with the audience.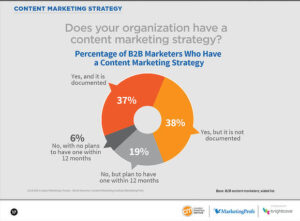 How to Create a Content Marketing Strategy
Now, let's dive in to learn the specifics of how to create a content marketing plan.
1. Define your goal.
What's your aim for developing a content marketing plan? Why do you want to produce content and create a content marketing plan? Know your goals before you begin planning, and you'll have an easier time determining what's best for your strategy.
2. Conduct persona research.
To develop a successful plan, you need to clearly define your content's target audience — also known as your buyer persona.
This is especially important for those who are starting out or are new to marketing. By knowing your target audience, you can produce more relevant and valuable content that they'll want to read and convert on.
3. Run a content audit.
Most people start out with blog posts, but if you want to venture out and try producing other content pieces, consider which ones you want to make.
For instance, if you've been doing weekly blog posts for the past year, creating an ebook that distills all your blog posts into one ultimate guide would be one way to offer information in a different format.
4. Choose a content management system.
Have a system in place where you can create, manage, and track your content, otherwise known as a content management system (CMS). A few vital parts of content management include content creation, content publication, and content analytics.
5. Determine which types of content you want to create.
There are a variety of options out there for content you can create. In the following section, we'll discuss some of the most popular content formats marketers are creating, including some tools and templates to get you started.
6. Publish and manage your content.
Your marketing plan should go beyond the types of content you'll create — it should also cover you'll organize your content. With the help of an editorial calendar, you'll be on the right track for publishing a well-balanced and diverse content library on your website. Then, create a social media content calendar so you can promote and manage your content on other sites.