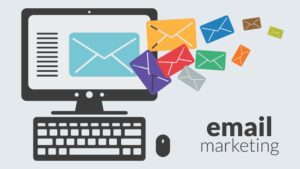 Email Marketing is directly marketing a commercial message to a group of people using Email. It usually involves using Emails to send ads, business proposal, and is meant to build loyality, trust or brand awareness.
Email Marketing is still ranked as the most effective marketing channel, beating out social media, SEO, and effective marketing.
How Email Marketing can help in grow your business?
Larger Reach
Email is the currency of the web, and anybody who's online has an active email address. And while Facebook and Twitter might seem pretty ubiquitous, the ongoing struggle over data breaches and privacy means plenty of people are exiting some social media channels.
Email Drive Conversions
Most marketers are laser focused on driving conversions. Regardless of whether they do so in the form of leads, sales, memberships, or a metric unique to your business strategy, the ultimate goal for marketers is to turn potential customers into paying customers.
As a marketer focused on nurturing leads and driving conversions—as most marketers are—email marketing trumps all other communication channels for business.
Personalizes and segmented Emails
Sometimes low-hanging fruit is as easy as it looks. Personalizing emails, as well as segmenting them—a marketing technique that teases out your subscriber list to send relevant emails to specific subscribers can offer significant returns. Segmenting emails allows you to target specific groups of subscribers, which leads to substantial increases in click through rate.
Types Of Email Marketing
Transaction Emails
Direct Emails
Mobile Email Marketing
At its best, email marketing allows businesses to keep their customers informed and tailor their marketing messages to their audience. The best marketing emails are optimized for mobile devices, respect the customers, and follow a regular schedule while mixing up the messaging.