Search Engine Marketing
What Is Search Marketing?
Search marketing is the process of gaining traffic and visibility from search engines through both paid and unpaid efforts.
Search Marketing encompasses:
SEO: Earning traffic through unpaid or free listings
SEM: Buying traffic through paid search listings
Types of SEO
(1) Pay-Per-Click (PPC) or Sponsored Search Results;
(2) Local SEO; and
(3) Organic SEO.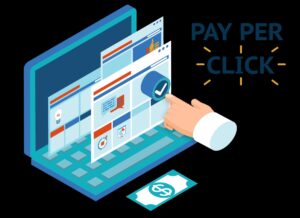 Pay-per-click (PPC) is an internet advertising model used to drive traffic to websites, in which an advertiser pays a publisher (typically a search engine, website owner, or a network of websites) when the ad is clicked.
Pay-per-click is commonly associated with first-tier search engines (such as Google Ads, Amazon Advertising, and Microsoft Advertising formerly Bing Ads). With search engines, advertisers typically bid on keyword phrases relevant to their target market and pay when ads (text-based search ads or shopping ads that are a combination of images and text) are clicked. In contrast, content sites commonly charge a fixed price per click rather than use a bidding system. PPC display advertisements, also known as banner ads, are shown on web sites with related content that have agreed to show ads and are typically not pay-per-click advertising. Social networks such as Facebook, LinkedIn, Pinterest and Twitter have also adopted pay-per-click as one of their advertising models.
Local search engine optimization (local SEO) is similar to (national) SEO in that it is also a process affecting the visibility of a website or a web page in a web search engine's unpaid results (SERP- search engine results page) often referred to as "natural", "organic", or "earned" results.
For example, local SEO is all about 'optimizing' your online presence to attract more business from relevant local searches. The majority of these searches take place on Google, Yahoo, Bing and other search engines but for better optimization in your local area you should also use sites like Yelp, Angie's List, LinkedIn, Local business directories, social media channels and others.
What is organic SEO?
Organic SEO is an online marketing strategy made up of smaller sub-strategies, like keyword research and link building, that help your website rank at the top of organic, unpaid search engine results pages.
Why is organic SEO important?
Organic SEO matters because a staggering 75 percent of searchers don't even click past the first page of results. If you're not ranking highly, you guessed it — your website won't get any traffic, which means your site will struggle to bring sales and leads to your business.
Companies also need to pay attention to organic search engine optimization because users rely on search engines to find what they need. Over 90% of online experiences begin with a search engine, like Google.