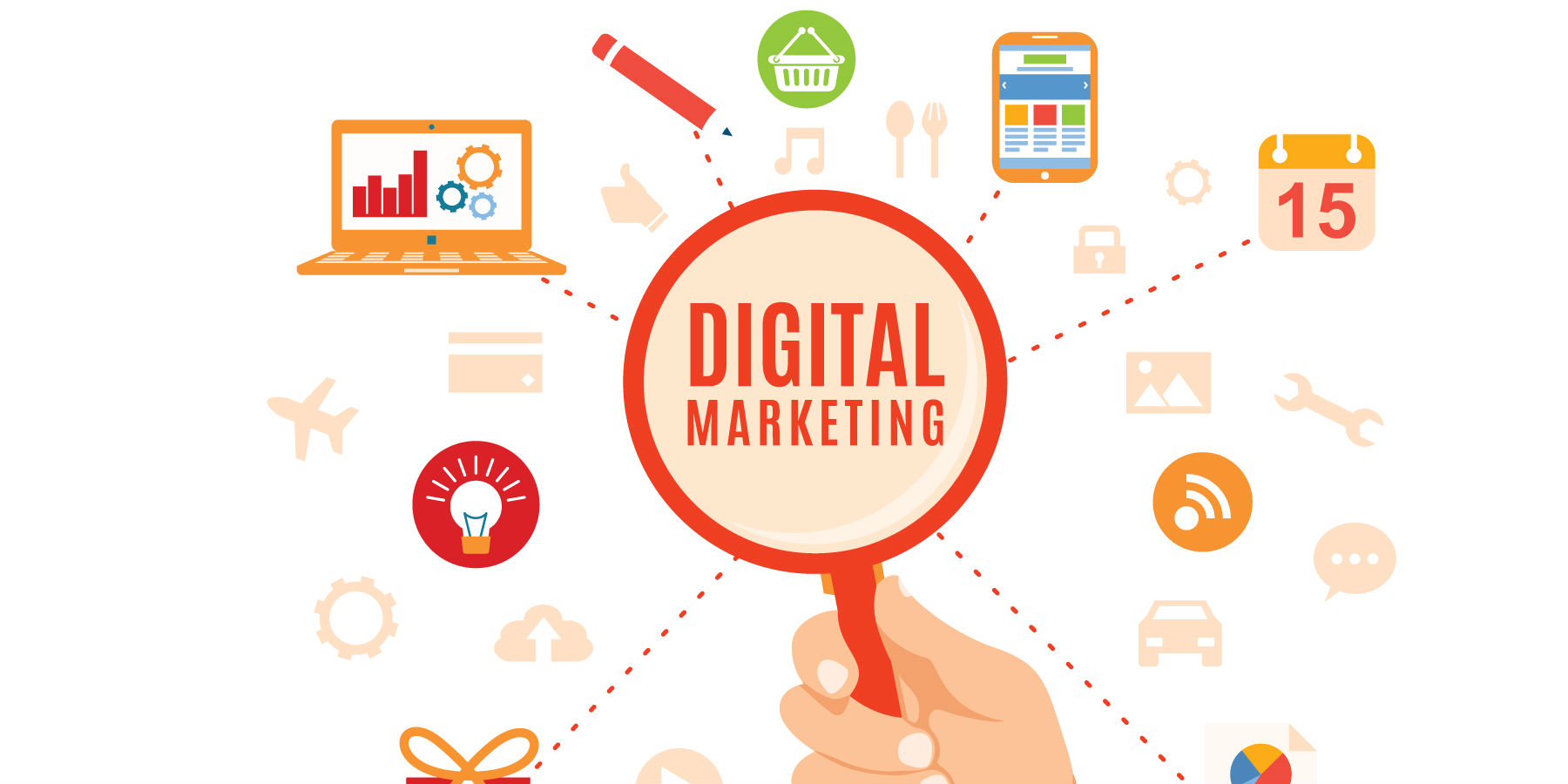 What is Digital Marketing?
Digital Marketing is the act of promoting and selling products and services by leveraging online marketing tactics such as social media marketing, search marketing, and email marketing. Digital marketing puts you in those same channels, so your best prospects can see you, learn more about you, and even ask questions to learn more about you and your products or services.
How Does Digital Marketing Work?
Digital Marketing has replaced most traditional marketing tactics because it's designed to reach today's consumers. The key is to develop a digital marketing strategy that puts you in all the places your followers are already hanging out, then using a variety of digital channels to connect with them in a multitude of ways, which are :
1. Content to keep them updated with industry news, the problems they're facing, and how you solve those problems…
2. Social Media to share that content and then engage with them as friends and followers…
3. Search Engine Optimization (SEO) to optimize your content, so it will show up when someone is searching for the information you've written about…
4. Advertising to drive paid traffic to your website, where people can see your offers…
5. Email Marketing to follow up with your audience to be sure they continue to get the solutions they're looking for.
What are the different types Of Digital Marketing?
1.SEM (Search Engine Marketing) – SEM or Search Engine Marketing is generally considered to cover both PPC (Pay Per Click) and SEO (Search engine Optimization) work.
2.SEO (Search Engine Optimisation) – SEO (Search Engine Optimization) Helps in making your website at the top of the SERPs ( Search Engine Result Pages) without any paid means.
3.PPC (Pay-per-click) – PPC, or Pay-per-click, is a form of advertising on search engines, like Google and Bing. It's a way of moving to the top of search engine results pages by paid means.
4.SMM (Social Media Marketing) – Social media marketing is the process of working on marketing through social media, with social platforms like Facebook, Twitter, Instagram, etc.

5.Content Marketing – It's not so much about directly marketing products and services to customers, but rather creating enriching and valuable content that enhances customer experience.
6.Email Marketing – It's a form of direct marketing which sends information, offers, blogs etc. directly to your mailing list's inboxes. 
7.Influencer / Affiliate Marketing – It's become more and more popular in recent years, through sites like Instagram and YouTube, where companies will enlist a well-known influencer, to promote their products or services on their social pages or affiliate websites.
8.Viral Marketing – It is done through a popular viral content creator, popular social media influencer or promoting it themselves. The idea of viral marketing is to create something shareworthy – by making it funny, on trend and topical.
9.Radio Advertising – Radio ads are a great way to get your business or brand heard, and it's never been easier to do with digital advertising.
10.Television Advertising – Radio isn't the only thing to move over to digital. There are loads of options for those that want to advertise on television without paying expensive ad slot costs on prime time TV. However, even with the digital shift and social fragmentation of Television Advertising, some still consider the 30-second ad as being a vital advertising tool in the next few years.
11.Mobile Advertising – Mobile social ads, Mobile search ads or even Mobile TV and radio ads, every form of digital marketing we've mentioned can be transferred to mobile. Businesses all over the world are shifting more of their advertising budget into mobile because consumers spend more time on their mobile devices more than any other device.


What Are the Benefits of Digital Marketing?
Having a strong digital presence will help you in multiple ways:
It will make it easier to create awareness and engagement both before and after the sale.
It will help you convert new buyers into rabid fans who buy more (and more often).
It will kickstart word-of-mouth and social sharing—and all the benefits that come with them.
It will shorten the buyer's journey by presenting the right offers at the right time.
 I Hope this article was helpful for you to understand what is Digital Marketing and it's types, and why it is beneficial for the business in today's era.