Social media is quickly becoming one of the most important aspects of digital marketing, which provides incredible benefits that help reach millions of customers worldwide. And if you are not applying this profitable source, you are missing out an incredible marketing opportunity, as it makes it easy to spread the word about your product and mission.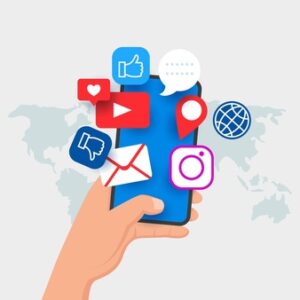 Social media is one of the most stress-free and profitable digital marketing platforms that can be used to increase your business visibility. To get started, create social media profiles for your business and start networking with others. By applying a social media strategy, it will help you significantly increase your brand recognition.
If people don't know about your business, they can't become your customers. Social media boosts your visibility among potential customers, letting you reach a wide audience by using a large amount of time and effort. And it's free to create a business profile on all the major social networks, so you have nothing to lose
Customers are increasingly savvier and more discerning about which businesses they support. Before making a decision, they'll do a quick search to browse your website and social media.
For an advertising strategy, social media marketing is possibly the most cost-effective way. Creating an account and signing up is free for almost all social networking platforms. Just by investing a little money and time, you can significantly increase your conversion rates and ultimately get a return on investment on the money that you primarily invested.
Social media is a good way for engaging and interacting customers. The more you communicate with the audience, the more chances you have of conversion.  communication and engagement with customers is one the ways to win their attention and convey them your brand message.
There is no denying that Social media marketing has many advantages for startups and established brands. By regular updating the right social media marketing strategy, it will lead to increased traffic, better SEO, improved brand loyalty, healthier customer satisfaction and much more.