SEO which stands for Search Engine Optimization is one of a celebrity term often heard when talked about Digital Marketing. But, the point comes on how to apply it practically on websites since it is not a toggle button.
Let's jump into what, why, and how of SEO.
So, what is the actual meaning of SEO?
Well, if we try to understand the word to word meaning of "Search Engine Optimization" than it is simply that we need to provide an optimized way to search engine so that it could find us easily over the internet and present us to whomsoever asked.
While technically, SEO is the practice of increasing the quantity and quality of traffic to your website through organic search engine results, or simply it is all about visibility and ranking in a search engine.
Why SEO?
In business, it's a saying that "Thing, which is visible, will sell", and believe me it's a universal truth. So the same applies to the digital world. If your ranking of the site is good and you are visible to the customer in the top few search results, kudos you have a high chance of conversions then the rest lying below you in the list.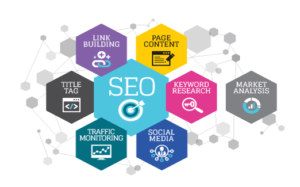 Types of SEO
Now, by definition, we are clear about what is SEO and what does it do, so it's time to get into how to make it do. There are 3 ways by which one can work on SEO.
On-Page SEO
As the title suggests 'on-page', that means there is something to be done with the entities present on a webpage, or content simply.
A practice of improving the design, code, functionality, and navigation structure of the website to give users an easy to navigate and flawless user experience is known as On-Page SEO.
A lot of factors fall under on-page SEO:
Keywords: They are the front line players, which means these are the words used to search anything on a search engine. So we need to be sure that which keyword is relevant and which ain't, also after selecting them we can use them in headings and form content using them.
Content: The highly engaging your content is the higher chance that your website is visible on the 1st position & on the 1st page of Google search results. So, use high quality and genuine content on your website using pre-planned keywords.
Page Titles: Important from the perspective of user and search engine, page title allows us to understand that what information is that particular webpage carrying. Relevant keywords can also be used on page titles.
URL Structure: URLs are the address to your webpages, so an easy to understand URL is best for search engine and also a well-written URL is appreciated by Google and gets an extra ranking boost in search results.
Meta Descriptions: It is a description that appears just below the link on SERPs. It can also sometimes be used as an advertising content helping the user to know what the webpage serves.
Meta Tags: They are the predefined HTML tags helping a website to be more functional and hence also improves SEO
Image Optimization: Images are a great way to visualize your products and service to create engagement with your readers or visitors. Hence a proper size and relevant image should be used and also the use of alt tags help greatly when image is unable to load.
Headings: Headings greatly describe your websites, hence you can maximize the use of primary and secondary keywords. Also, make sure to stick to an appealing boldness in the font of heading.
 Redirections:  There are many types of redirection codes available and you can use them efficiently to increase the SEO score of your website. You need to figure where to use the 301, 302, 404 codes, and a lot more. So, make sure that you are using correct redirection code on the correct area, function, or link in the website to optimize your website wisely.
Site Speed: It's very natural that nobody wants to visit any website which takes more time to load. Everyone prefers to visit the websites loading quickly. So, make sure to optimize the load time of your website and try to keep it less than 3 seconds.

Off-Page SEO
As the title suggests "off-page", that means any activity done by you or any other person for your website by not actually working on your website i.e. somewhere else on the internet.
Actions taken outside of your own website to impact your rankings within search engine results pages (SERPs) is known as Off-Page SEO.
There are a lot of activities that need to be performed to get the backlinks from the high authority website to pass the link juice towards our website. Below mentioned are few of them:
Directory submission
Social bookmarking
Guest blogging
Business listings
Blog commenting
Article submission
Image submission
Blog submission
Web 2.0 submissions
Press release
Doc and PPT submission
Video submission
Link building
Technical SEO
As the title suggests 'technical', means working on the technical aspects of the website.
The attempt to manipulate the technical abilities of a website so that it results in a website which is faster, easier to crawl and understandable for search engines is known as Technical SEO.
Now, diving deep it has 3 different types,
White Hat SEO: This is a technique which does all the activities but follows all the guideline of a search engine to improve the website ranking on the SERPs, though it takes time but gives long-lasting benefits.
Black Hat SEO: This technique does all the activities at an instant pace to improve the ranking of a website for organic searches on the search engine but fails to follow the quality guidelines of the search engine. It includes activities like cloaking doorway pages, hidden content, and a lot more.
Grey Hat SEO: This technique is a mix of the previous two, but at the end, it is not much healthy for your website.
So on a bigger picture, this(below) is how we can sum-up.
I hope our efforts made the picture of this celebrity term called SEO clear in your mind and that you can explain and suggest it to many others out there.