Digital Marketing?
Digital marketing is an all-encompassing term that consists of digital channels, such as content marketing, SEO, email marketing, social media marketing, mobile marketing and so on, to create elaborate strategies to reach and connect with prospects and customers.
An average user consumes content via the television, computer, tablet, smartphone, radio, and other traditional media. This constant exposure to various types of media has led to information overload, further complicating the buyer's journey.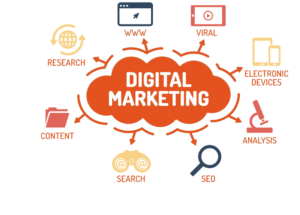 Types of Digital Marketing Channels
Before we delve into other aspects of digital marketing, let's quickly review the top eleven types of digital marketing channels:
Website
The website is often the home to your digital marketing efforts. Brands and organizations use websites to host content while using other mediums to distribute it. Most of your digital marketing activities will link back to your website, where an action is expected to take place, and the conversions are tracked. For example, the download of a file, booking of a product or a service, and so on.
. Content Marketing
Content creation is the spine of your entire digital marketing strategy. Whether you've got a documented content marketing strategy or not, you're creating content to inform, entertain, inspire, or persuade your buyers through other channels. Some of the most common formats of content include text (blog posts), videos, images, infographics, podcasts, slide decks, and ebooks.
. Search Engine Optimization (SEO)
SEO acts as a jetpack for your content marketing efforts. SEO consists of on-page and off-page activities to boost your website's visibility in search engine result pages (SERPs) for your preferred keywords. Earlier, SEO was primarily text-based, but in recent years voice search has gained prominence as well, which is why your SEO activities need to have a conversational approach.
Digital Advertising
Digital advertising is an umbrella term for various online advertising strategies. The typical pricing/bidding strategies for digital advertising are cost-per-click (CPC) and cost-per-mille (CPM), i.e., per thousand impressions. Common formats of digital advertising are search engine marketing (SEM), display advertising, native advertising, social media advertising, and programmatic advertising.
Email Marketing
Email marketing is the process of maintaining a database of cold and warm contacts and sending them email alerts about your brand, products and services. It is an effective channel to communicate with your audience on an ongoing basis. Email marketing is useful to build your subscriber base, onboard new customers, retain existing ones, promote discounts and offers, and distribute content.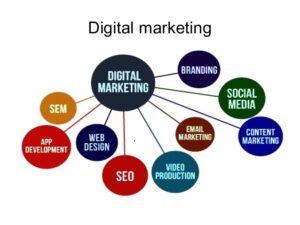 Impact of Digital Marketing on Businesses
Today, our society is driven by digital technology. The impact is such that there are places in the world where the residents may not have clean water, but they own smartphones. Another incredible influence on people's lives, nowadays, is digital marketing. It affects people's interactions, work, purchases, and habits.
Digital marketing, has had a profound impact on the traditional ways of marketing
Digital marketing companies should have a firm grasp on the utilisation of the digital universe which will maximise a brand's impact and it's brand awareness. The digital marketing world is a gateway for potential customers to feel like a part of the brand. It offers the opportunity to feel connected with the business as clients see the content from the brand regularly. This entices potential customers to try out the products and services that they earlier, wouldn't have known about.
There are about 3 billion people across the globe, who use social networking sites every day. In a study conducted by a marketing firm, it was found that people are more likely to follow brands than celebrities, on social media. On the picture-sharing site, Instagram, around 80 per cent of the users follow at least one brand.