Social Media Marketing
Social media marketing is a powerful way for businesses of all sizes to reach prospects and customers. Your customers are already interacting with brands through social media, and if you're not speaking directly to your audience through social platforms like Facebook, Twitter, Instagram, and Pinterest, you're missing out! Great marketing on social media can bring remarkable success to your business, creating devoted brand advocates and even driving leads and sales.
What is Social Media Marketing
Social media marketing (SMM) is the use of social media websites and social networks to market a company's products and services. Social media marketing provides companies with a way to reach new customers, engage with existing customers, and promote their desired culture, mission, or tone. Also known as "digital marketing" and "e-marketing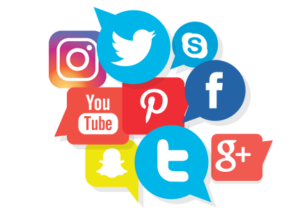 DEFINITION
Social media marketing (SMM) is a form of Internet marketing that utilizes social networking websites as a marketing tool. The goal of SMM is to produce content that users will share with their social network to help a company increase brand exposure and broaden customer reach.
Benefits of Social Media Marketing

1. Brand Awareness
Social media is one of the most cost-efficient digital marketing methods used to syndicate content and increase your business' visibility. Implementing a social media strategy will greatly increase your brand recognition since you will be engaging with a broad audience of consumers.
2.Create goodwill
Social media helps you to create better goodwill for your business by doing social media marketing for your product and to reach more customer it help you to create goodwill
3. Establish relationship with customers
Social media marketing help you to create relationship with the customer and also help you to reach more customer and also help you to create loyalty with the customer
4.Faciltates interaction with customer
Social media marketing help you to intract with the customer and help you to solve there problem and to get there feedback and it also help you to reach more customer
5.Draws customer attention
With the use of social media marketing you will able to draw the attention of the customer and help you to advertise your product with social media customer get attract with the product and it help you to draw there attention.
Conclusion

In the world with over 70% of internet users active on social networks, who spend at least one hour a day on average on those social networks, we have to conclude that social networks have become a sort of reality in which people communicate, interact, and obviously trust. We also have to be aware that over 60% of those users access social networks via mobile devices, with strong indicators that this percent will only increase in the future years.
Over 90% marketers report they are or will be using social networks for business, while over 60% of them claim to have acquired new customers over social networks.