Social Media Marketing is all about using Social Media platforms and websites to promote our product or services. It uses Social Media to connect with the audience to build their brand, increase sales, and drive website traffic.
Social Media Marketing is a powerful tool used by businesses of all sizes to reach prospects and customers. Great marketing on social media can bring remarkable success to your business, driving leads and sales.
SOCIAL MEDIA MARKETING CAN HELP YOU MEET MARKETING GOALS:
The bigger and more engaged your audience is on social media networks, the easier it will be for you to achieve every other marketing goal on your list.
Goals that can be achieved through social media marketing are:
Building Conversions
Increase website traffic
Increasing brand awareness
Improving interactions with audiences
Creating Brand Identity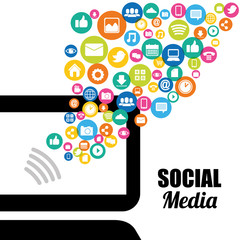 BEST SOCIAL MEDIA PLATFORMS FOR MARKETING:
Facebook– Start by creating a Facebook Business page.  It is a place where people go to relax and chat with friends, so keep your content tone light and friendly.
Pinterest- Pinterest is one of the fastest growing social media marketing trends. Its image centered platform is perfect for retail, but anyone can benefit from using Pinterest for social media purposes.
Twitter- Twitter lets you broadcast your updates across the web. Follow tweeters in your industry or related fields, and you should gain a steady stream of followers in return.
LinkedIn- LinkedIn is one of the most professional social media marketing sites. It is good for posting jobs and general employee networking. Linkedin groups is a great venue for entering into professional dialog with people in similar industries and provide a place to share content with like-minded individuals.
YouTube- YouTube is the best place for creating and sharing video content, and it can also be an incredibly powerful social media marketing tools. And people mostly understand stuffs through videos so don't under-estimate the power of video content!
78% of small businesses use social media to attract new customers. Furthermore 33% of customers have identified social media as how they identify new brands products and services.
A company's social media presence, when done correctly, tells consumers that their brand is active and focused on thriving communication with consumers.